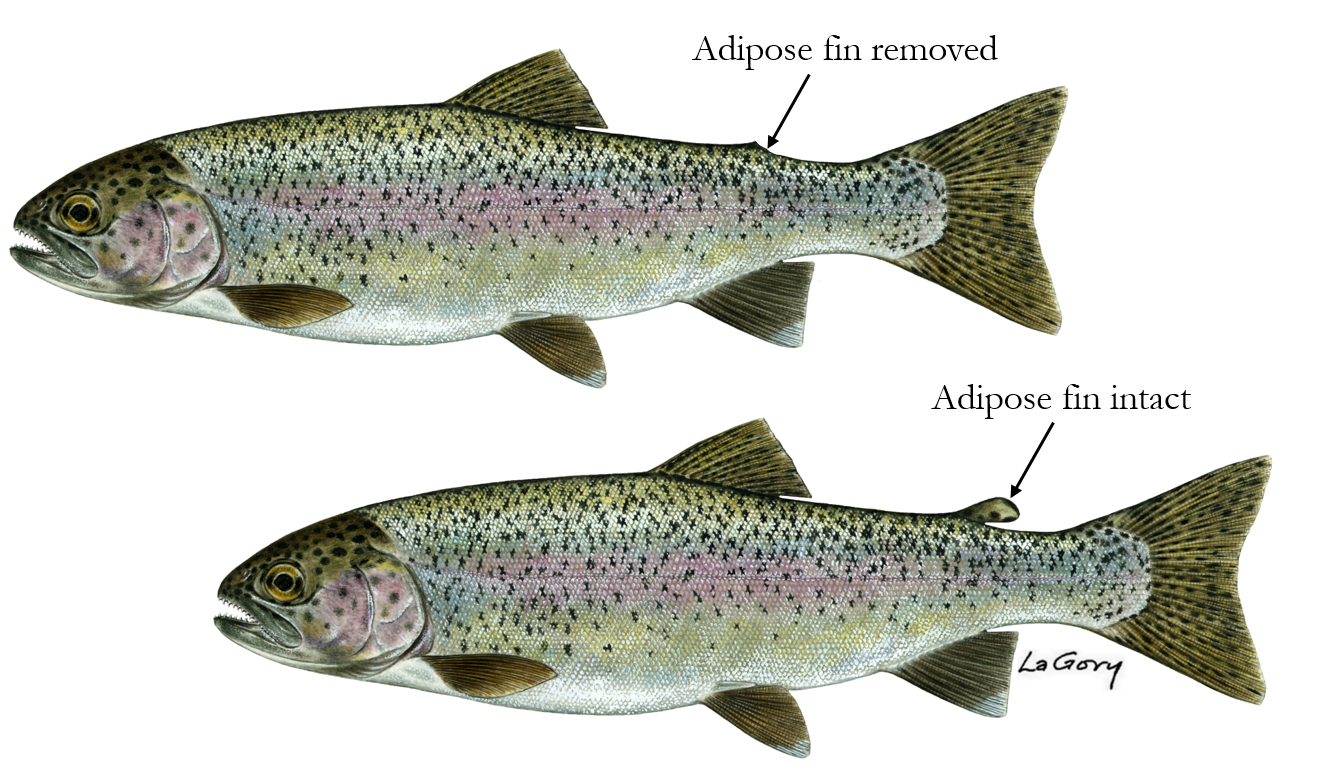 Laramie – If you have been fishing at Twin Buttes Reservoir lately, you may have noticed signs posted about an ongoing Wyoming Game and Fish Department survey project. The Game and Fish is working to evaluate the success of stocked Rainbow Trout, with the goal of improving this popular fishery over time. If you go fishing at Twin Buttes, you can help with this effort by filling out a quick survey at the end of your fishing trip. 
Before you rush to fill out the survey, there are a couple of things you will need to pay attention to while you are fishing. The most important of these is if any of the Rainbow Trout you catch have a removed adipose fin. The adipose fin is the small, fleshy fin on the fish's back, just in front of the tail. 
In 2020, Game and Fish began stocking two strains of Rainbow Trout into Twin Buttes Reservoir. The Eagle Lake strain spawns in the spring, while the Fall strain spawns in (you guessed it) the fall. All of the Fall strain fish had their adipose fin removed before they were stocked, while the Eagle Lake strain fish did not. This allows fish biologists to now see if one strain is surviving and being caught by anglers more than the other. This is where anglers can help.
If you go fishing at Twin Buttes and catch any Rainbow Trout, keep count of how many fish had an adipose fin, and how many had their adipose fin removed. When you are done fishing for the day, you can fill out the survey and support this research effort. Please submit a survey every time you fish at Twin Buttes, even if you do not catch any fish. Knowing if anglers are catching fish helps Game and Fish evaluate the success of this fishery.
Finally, anglers are reminded to double check their fish species identification before submitting surveys. In addition to Brown and Rainbow Trout, there are Cutthroat Trout in Twin Buttes Reservoir. Please be sure of your fish identifications before submitting a survey response.
Thank you for your help with this Game and Fish project! 
– WGFD –