Taiwo Hassan (born on 31st October 1959; Age 63 years old) is a Nigerian actor, film producer, and director best known by the name Ogogo and for his roles in the Yoruba film industry.
Taiwo Hassan is a Nollywood veteran who launched his acting career at the age of 22. He has since remained relevant in the industry and diversified her career endeavors into movie production and direction. His versatility in the industry is evident in his roles in some household movies like Baba Ibeji, Heartless, Alanu Mi. Igba Aja, to mention a few.
Summary of Taiwo Hassan's Bio
Full name: Taiwo Babajide AlHassan
Nickname: Ogogo
Gender: Male
Date of birth: 31st October 1959
Taiwo Hassan's Age: 63 years old
Ethnicity: Yoruba
Nationality: Nigeria
Zodiac Sign: Scorpio
Sexual Orientation: Straight
Religion: Islamic
Marital Status: Married
Taiwo Hassan's Wives: 2 (Ajoke and Taibat)
Taiwo Hassan's Children: 4
Siblings: Late Kehinde Hassan
Taiwo Hassan's Parents: Late Subair Akande Taiwo & Alimot Ayinke Taiwo
Taiwo Hassan's Net Worth:

 

$2 million

Famous for: Yoruba actor
Taiwo Hassan's Instagram: @alhajitaiwo
How Old is Taiwo Hassan?
Taiwo Hassan is 63 years old and was born on the 31st day of October 1959 into the family of late Subair Akande Taiwo and Alimot Taiwo. He is a native of Ilaro in Ogun State, Nigeria. He spent his early years in his hometown, where he also received his basic education. Taiwo lost his father at a very young age of 11, while his mother died in 2000.
Taiwo attended primary school at Christ Church School in Ogun State and then moved to Gasikia college in Lagos for his secondary education. But he couldn't complete his secondary school due to financial constraints.
Is Taiwo Hassan a Twin?
The family of Taiwo has a lineage of twins. Taiwo's mother had four sets of twins, and Taiwo is the only surviving one of them. That is to say, her mother gave birth to twins four times.
Taiwo is the last set of twins, and the name of his twin brother is Kehinde Hassan, who is now late. The only other surviving child in his family is his eldest brother, who is not a twin. Moreover, from his father's side, Taiwo's grandfather is a twin, and his father also is a twin.
Before Acting, Taiwo was an Auto-Mechanic
After he dropped out of college, young Taiwo decided to train as an automobile mechanic. So, he proceeded to Yaba Technical School in Lagos State and took off with his technical training. After the training, he started working with the Lagos State Water Corporation as their auto mechanic. He worked there for 13 years before going into acting.
Even though he started acting in 1981, Taiwo did not focus fully on acting until 1994, when he finally retired from government work. Prior to that time, he concentrated only on stage plays. Between 1981 and 1982, he acted under the tutelage of his then-boss, Awo Ademola Fagbemi.
During the time, he would work in the morning and then go to theatre practice in the evening. His first set of movies was Wicked Boy, Prisoner, and Merciful God. These were the movies he did while he was still working with the government.
He Has Since Grown in Fame in the Yoruba Film Industry
Taiwo Hassan started gaining recognition as an actor in 1991 while he was still working. His fan base began to grow considerably, and considering that his salary was not buoyant, he made up his mind to resign after one of his brothers made the same suggestion to him.
He saw no need to continue going to work because he was already making more money from acting. That was how and when he fully took up acting for a career. Today, Taiwo Hassan has featured in hundreds of Nollywood blockbusters, especially Yoruba movies. He has since been doing just well and established himself in the industry with his outstanding acting skills.
Taiwo Hassan is best known for playing the role of a father or a responsible man in movies, and this has earned him so much respect from people. The actor once recalled when he got the script for Owo Blow in 1995 while he was on a sick bed. Regardless of the fact that he was seriously ill, the movie director insisted that he was the one he wanted for the particular role. This, he pointed out, was apparently based on merit, given his talents and unique acting skills.
Taiwo Hassan's Movies
Suspect
Baba Ibeji
Ore Ojokan
Heartless
Plastic Girls
Father and Daughter
Ote
Owara
Erelu
Aiye Alabata
Aye K-ooto
Ipalemo Odu
Owara 2
Idakeji Aye
Sunday Igboho
Terror
Tomorrow
Ashabi Iya Eko
Enikeji
Aworawo
Eji Owuro
Eji Owuro 2 &3
Isun Ayomi
Emi Lomo Baba Olowo
Iyawo Alalubarika
Ayekaye
Alaafin Oronpoto
Tolani Igara
Eyan ni mi
Mio Le Gba
Alaso Duduin
Opo
Atunse
Mahuru The Tempest
Ogiri Alapa
Airat
Ogo Mi
Omo Ologo Ni
Alanu Mi
Igba Aje
Iruju
Oba Adegboyega
The Yoruba veteran actor also diversified into film production and directing. He has produced and directed a good number of movies, especially action-packed movies. Some of the films he has produced as well as directed include Omin, Obinrin Sowanu, Apaadi, Bolode o'ku, Owo Blow, Atitebi, etc.
Taiwo has received a couple of awards and recognitions for his successful works in the movie industry. In 2005, he won an award in Dublin and has once bagged the City People Movie Lifetime Achievement Award. The ace actor celebrated his 60th birthday in 2019 and all the actors and actresses who passed through his tutelage took to their various social media pages to celebrate one of the most respected veterans of the Yoruba sub-sector of Nollywood.
Taiwo Hassan Has Two Wives and Four Children
Taiwo Hassa is happily married to two wives. The name of his first wife is Ajoke Taiwo, but she is fondly called Iya Jesu. Unlike her husband, Iya Jesu is a devout Christian. The couple together has two daughters named Halima Taiwo and Shakira Taiwo.
The name of his second wife is Taibat Taiwo, and she is a Muslim, just like her husband. Taibat and Taiwo together have a son and a daughter named Fuad Alade Taiwo and Khalid Ayinde Taiwo.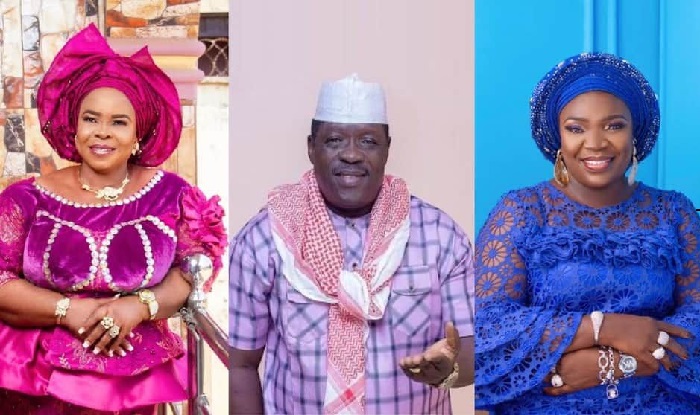 In total, Taiwo Hassan's union with his two wives produced four children; two boys and two girls. Even though marrying a second wife is against her faith, Mrs. Ajoke wholeheartedly accepted the second wife and took her like her own sister. The two women and the entire family have since been living in peace together with their husband.