Since Byron Buxton became the full-time DH for the Minnesota Twins at the beginning of the 2023 MLB season, he has played in 47 of the Twins' first 52 games, translating to him playing in 90% of games or a 146-game pace. The last time Buxton came close to playing 146 games was during the 2017 season when he played 140 games. The next highest number of games played by Buxton in a season was 92, which was last year and ended with Buxton needing arthroscopic surgery on his right knee. 
Buxton is nearly halfway to his games played total from last year, and we are only in late May. Through his first 47 games as full-time DH, Buxton has managed to hit .230/.332/.456 (.797) with  a wOBA of .344, which is outperforming his xwOBA of .322, and an OPS+ of 119. Buxton also has a wRC+ of 131, an fWAR of 1.2, and a team-leading Win Probability Added (WPA) of +1.50. 
To put Buxton's performance into perspective, through the first 50-or-so games of the season, Buxton, according to Fangraphs, ranks fifth in statistics for DH only behind MVP candidate Yordan Alvarez (Astros), second-year-breakout star Nolan Gorman (Cardinals), former Twin and surprise breakout player Brent Rooker (A's), and the baseball prodigy himself Shohei Ohtani (Angels). 
Buxton is breaking out as an everyday DH and, more importantly, staying in the lineup with a relatively outstanding bill of health as evidenced by his ability to play in 90% of games so far this season. With the Twins being comfortable moving forward with Buxton being the full-time DH, the next step the Twins need to take is finding someone who can take over the role of full-time starting center fielder. 
Although Michael A. Taylor has handled center field for most of the season, it is still being determined whether Taylor, who will be a free agent this upcoming off-season, is in the Twins' intermediate-to-long-term plans at center field. With a looming sense of uncertainty around the position, I will explore three avenues the Twins could pursue while attempting to find a starting center field for 2024 and possibly beyond.
Option 1: Extend Michael A. Taylor
The first avenue the Twins could go down when finding a starting center fielder for 2024 is through extending current starting center fielder Michael A. Taylor. Through the first 52 games of the season, Taylor has played in 47, putting him at a 146-game pace, just like Buxton. Through those first 47 games, Taylor has generated a 0.6 fWAR, which ranks 29th amongst qualified center fielders. 
On the defensive side, Taylor has been superb. He has generated an Expected Catch Percentage of 90% and an Actual Catch Percentage of 92%, which generates a Catch Percentage Added (%) or an Outs Above Average (OAA) of 2. With an OAA of 2, Taylor is ranked 19th out of 92 qualified outfielders and is the highest-ranked Twin, with Nick Gordon being second at 45th with an OAA of 0. 
Although Taylor has been above average defensively, his offensive numbers are cause for concern. Taylor has put up a slash line of just .218/.265/.395 (.660) with an OPS+ of 82 and a wRC+ of 82, all below league average. Taylor's Baseball Savant page numbers confirm his early-season struggles.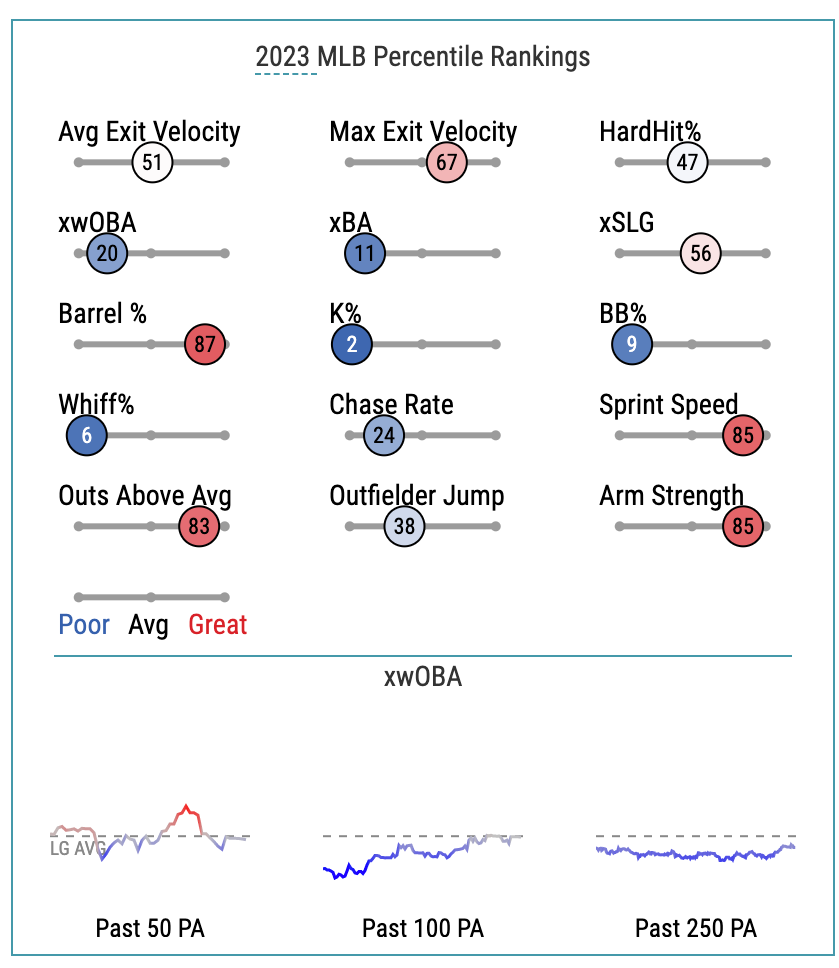 As illustrated in the chart above, Taylor ranks towards the bottom of Major League Baseball in xwOBA, xBA, and BB%. The most concerning aspect of Taylor's performance at the plate this year is his strikeout rate. Taylor ranks towards the bottom of the league in Chase Rate, Whiff%, and K%. These numbers are exemplified in Eno Sarris' most recent piece in The Athletic, where he illustrates that Taylor is currently ranked second in the MLB, only behind Yankees infielder DJ LeMahieu, with a K% increase of 9.4%. 
Like most of the Twins lineup, Taylor is struggling, but Taylor's struggles are especially alarming. However, a silver lining, as illustrated in the chart above, is that Taylor ranks towards the top of the league in Barrel% and Max Exit Velocity. If Taylor can find a way to lower his strikeout rate, he should become a more productive offensive player, as evidenced by the fact that when he hits the ball, he hits it hard and on the barrel of the bat.
Taylor, who is 32 years old, signed a two-year/$9 million contract with the Royals in 2021, and is making $4.5 million to play for the Twins this year. I could see an extension with the Twins looking nearly identical, with the only difference being that the second year of the extension is a team option or vesting option, instead of it being fully guaranteed like it was when he signed with the Royals in 2021. 
Option 2: Test the trade or free-agent market
The third avenue the Twins could go down this upcoming off-season is the one they took this past off-season when they went outside the organization for a starting center fielder. When the Twins traded minor-league relievers Steven Cruz and Evan Sisk to the Royals for Taylor in January, many in the organization still believed that Buxton would start a majority of games at center fielder as long as he was healthy, and Taylor would take on the role as the Twins fourth outfielder behind Max Kepler, Joey Gallo, and Buxton. This off-season, the Twins could be more aggressive. 
This offseason, there may be four desirable center field free agent options. Cody Bellinger can opt out of his mutual option with the Chicago Cubs. Kevin Kiermaier, Harrison Bader, and, if the Twins don't end up extending him, Michael A. Taylor, are the others. 
Bellinger, Kiermaier, and Bader all appear to be more appealing options than the soon-to-be 33-year-old Taylor, but they will likely carry heavier price tags. This year, Bellinger is making $12.5 million (with the potential for a $5 million buyout if he decides to leave the Cubs), Kiermaier is making $9 million with the Blue Jays, and Bader is making $5.2 million with the Yankees. If Bellinger continues to perform well with the Cubs, the former NL MVP is expected to sign a multi-year contract worth north of $20 million a year. If Bader performs well, he is expected to get a pay raise, and it is fair to assume that Kiermaier will once again sign a deal within the $9 million range this upcoming off-season. 
Although Bellinger, Bader, and Kiermaier are possibly better options than Taylor, I find it improbable that the Twins will want to invest over $10 million a year into a starting center fielder. Not because the Pohlads are cheap or any tropes like that, but because Falvey and the current Twins regime likely feel they could get similar production from potentially Taylor and younger internal options at a much lower price.
The Twins could also go down the following route: trading for a starting center fielder. This route feels more likely than the Twins signing Bellinger, Bader, or Kiermaier, and that is because this front office tends to favor trading for veteran players over signing them. 
Some starting center field options the Twins could trade for include Mike Yastrzemski, Trent Grisham, Lars Nootbaar , Manuel Margot, Victor Robles, and, if they want to swing big, Jazz Chisholm Jr.
Although some of these options are more enticing than others, the more realistic options are likely Yastrzemski and Grisham. If the Twins did pursue Yastrzemski or Grisham, it could be considered redundant, as the Twins already have so many left-handed outfield options in Max Kepler (if they exercise his option), Trevor Larnach, Matt Wallner, Nick Gordon, Alex Kirilloff, and potentially Joey Gallo under team control for 2024. Besides Nick Gordon, who was platooning with Taylor earlier this season before fracturing his tibia, none of these outfield options play center fielder, but adding another left-handed outfielder to an already packed left-handed hitting outfield could be considered redundant by the Twins front office. If the Twins decide to give Martin more of a role, as I suggested in option #2, trading for a left-handed bat, such as Yastrzemski or Grisham, would make more sense as the two would take on platoon roles. 
Option 3: Royce Lewis?
Ideally, Twins fans would love to witness a seamless transition of Buxton handing over center-field duties to 2017 first-overall pick Royce Lewis, but it, unfortunately, won't be that simple. On May 29th of last year, Lewis tore his ACL for the second time in two years while making an incredible catch in which he collided with the outfield wall while playing center field.
During Lewis' rehab, there has been an inkling from those plugged in with the Twins that playing center field is not an option for Lewis, at least when he first returns. With Jose Miranda getting demoted earlier this year and Kyle Farmer having more value as a infield utility player, Lewis will transition into playing almost exclusively at third base once he returns from the 60-day IL. Also, even though Carlos Correa played against the Toronto Blue Jays on May 27th after being diagnosed with plantar fasciitis just days before, it is reasonable to assume that Lewis could spend time at shortstop to give Correa some days off to rest his ailing left heel and foot. 
If Lewis can stay healthy for the rest of the 2023 season while playing third base and shortstop, the door for adding center field into his defensive repertoire could open again. If that door opened and Lewis was comfortable with playing center field, then Lewis taking over fulltime in center field seems logical, of perhaps splitting time with a healthy Nick Gordon and potentially the recently surging Willi Castro.
Which of these options intrigues you the most? Are there any options or players that I didn't list that you think would make sense as the starting center fielder for 2024? Comment below with your answers.