09/05/2023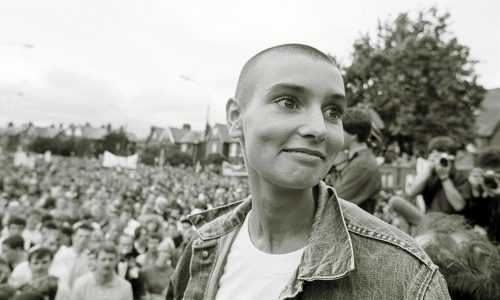 There were triumphs for Paul Mescal and the team behind Sinead O'Connor documentary Nothing Compares at the 25th British Independent Film Awards ceremony which took place in Old Billingsgate, London on 4 December.
Aftersun, starring Paul Mescal, was the big winner taking home seven awards including the night's main prize.
It was named best British independent film, while director Charlotte Wells won best director, best debut director and best screenplay.
It also won awards for cinematography, editing and music.
Aftersun is a coming-of-age drama about a young father and his daughter's complex relationship.
The film had led the nominations with 16 nods.
The Irish documentary Nothing Compares took the awards for Best Feature Documentary and Best Debut Documentary Director for Kathryn Ferguson.
Nothing Compares charts Sinéad O'Connor's phenomenal rise to worldwide fame, and examines how she used her voice at the height of her stardom before her iconoclastic personality led to her exile from the pop mainstream.
Kathryn Ferguson told The Irish World: "I am absolutely genuinely stunned beyond belief.
"I had no expectations of this whatsoever.
"We set out from the very beginning to tell this story out of a deep respect and love for herself and wanting to put the story straight.
"And the fact that it's won these two awards tonight just shows what people feel about her.
"I've said the whole way that any positive response to Nothing Compares is a positive response to Sinead O'Connor."
The film's co-writer Michael Mallie added: "It's obviously personally amazing for Kathryn and for the three of us, but more importantly, for Sinead.
"Five years ago we set off on this journey to tell Sinead's story and our only real motive was for the world to have a deeper understanding and more sympathy and empathy for that which she had stood for and achieved in her life and we felt had kind of been forgotten about.
"So, personally we're absolutely delighted. But more importantly, we're so happy for Sinead, and for her legacy and for how we as a country have moved on over 30 years since she was telling the world what needed to be fixed, and nobody was listening."
Kathryn continues: "I've always been hugely inspired by Sinead herself. I grew up in Northern Ireland during the 80s and 90s and she became a huge icon for my friends and I when we were young teenagers growing up in the country, we were then very demoralised, to witness how she was treated.
"We felt as soon as we found her and claimed her as our musical god and one from her own island, it was very demoralising to then see how the media treated her and how her voice was hugely reduced.
"So I would say that's where the seeds for the film were really sown."
What has Sinead's response been to the film? "She's very supportive and I'm just really hopeful that what the film will do is create a lot more support around her."
For her 30-year career in acting and directing, Samantha Morton was honoured with the Richard Harris award for outstanding contribution by an actor to British film.
Samantha Morton told The Irish World that the accolade meant so much to her as it was named after the late Limerick actor that she worked with very early in her career.
Samantha said: "It does (make me reflect on Richard Harris).
"He was an incredibly important person in my life because he was the first real actor I'd ever worked with.
"I was in a Mary McGuckian film called This is the Sea.
"It was my second feature film and to play the lead opposite Richard Harris, in such a huge film at the time was a huge honour.
"Gabriel Byrne was in that and John Lynch.
"Richard took care of me on that film, inspired me, explained to me how to take care of myself and gave me advice, wisdom, generosity, care, love.
"And this means more to me than anything, any other award I've ever had in my life because it has his name on it.
"And I miss him. I miss watching him in films.
"I loved him very much."
The awards' 25th awards show on Sunday 4 December saw the move to gender-neutral acting categories.
Best lead performance went to Rosy McEwen and best supporting performance to Kerrie Hayes for their roles in the 1980s-set Blue Jean by Georgia Oakley, who also picked up the prize for best debut screenwriter.
The Irish World asked a stunned Rosy if her win was sinking in? "No," she said. "It's not. I keep looking down and thinking, 'Is that for me?'
"I haven't believed it yet."
Blue Jean is set in 1988 when Thatcher's government were about to pass a law stigmatizing gays and lesbians, forcing Jean, a PE teacher, to live a double life.
Rosy, whose grandfather came from Ballyjamesduff in Cavan, said: "Article 28 was in play when I was at school and I didn't even know about it.
"To be so close to home to these women's struggle, and to not understand it or know it even existed was something I felt baffled by and was so proud to be part of."
Safia Oakley-Green won the award for best breakthrough for her performance in The Origin, Andrew Cumming's feature about a nomadic tribe facing an ancient threat.
Safia, whose mother is from Mayo, told us how it felt to win in such a competitive category: "Incredible, I'm completely mind blown.
"I'm like, 'Am I in a dream? Pinch me.
"It feels crazy, it feels really great.
"I'm very, very happy and very grateful.
"My Mayo mum's gonna be over the moon, my whole family from Ireland are gonna be over the moon, I hope.
"I just can't wait to go back text everyone in the group chat and let everyone know. I'm just so happy."
Earlier on we had asked Safia what it would mean to win.
Safia said: "I can't even imagine.
"I feel like everybody in my category is so incredible.
"I've watched all the films and I feel like all of them are so beautiful.
"I'm so proud of all of us because breaking through is very, very hard.
"So honestly even though the fact there's a breakthrough category, I'd be happy if anyone wins because we've done it. And that's what's important."
On her Irish roots, she said: "My mum's whole family is Irish from County Mayo.
"I spent a lot of time in Ireland when I was growing up.
"I didn't know that you could go on holiday to somewhere that wasn't Ireland until I was like 15.
"All my friends were going to Spain and I was like, 'Why do we not go to Spain?' And mum was like, 'Because we're going to Ireland'.
"And I was like, 'Okay'.
"I love it."
Tamara Lawrance and Letitia Wright were named the winners of the best joint lead performance accolade, a new category, for their roles as siblings who communicate only with each other in The Silent Twins.
Tamara said of the win: "It's amazing.
"It's an honour, there's many levels to the honour: To represent these twins, to work with people who are so amazing, to work alongside formidable talent and to be recognized here.
"It's a multifaceted honour and I think what it means to us is so much deeper than the exterior accolade.
"I think to be people that are doing what we always wanted to do with our lives, even that is such a privilege.
"So I'm super moved."
Letitia added: "These stories when we get the chance to do it, and when we have people that get behind us, it inspires the next generation. And I think that's incredibly important. So thank you, BIFA."
Letitia, well known for Black Panther, recently starred in the Irish film Aisha which tackles the issue of direct provision.
On this she told us: "I try to find stories that are impactful stories that mean a lot to us as a society, stories that reflect the ways in which as a society, we need to grow and be more understanding of different people from around the world and what people are going through.
"Aisha is a beautiful example of that.
"And Frank (Berry, writer/ director) and Josh (O'Connor, co-lead) were amazing to work with and I'm excited to hear more about the reception of it as time goes on."
Asked if the film could help to end DP, she said: "When you do a film, you hope that it makes a difference. So hopefully that happens."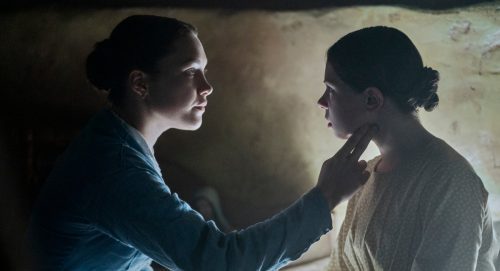 The Wonder, Netflix's adaptation of Emma Donoghue's novel of the same name, earned 12 nominations- only second to Aftersun.
The Wonder is a 19th-century tale focussing on a young Irish girl whose fasting is hailed as miraculous but may be something more ominous.
Emma Donoghue told us how delighted she was to be there: "It's just thrilling especially for someone who's mostly in the book world.
"To be at a film event and to feel that the film you helped to write is getting the recognition of its peers, especially within independent film, it couldn't be more moving, it's lovely."
Emma Donoghue's Room had already been brought to the screen by Lenny Abrahamson.
"What I found particularly lovely this time was making the film in Ireland and actually feeling that I was bringing something back to my homeland in terms of contribution to its economy and employing people again after COVID, that was just wonderful.
"And to see the landscapes of my childhood become part of this beautiful film."
What was it like to see her story brought to life by a talented cast led by Florence Pugh but also including Ciaran Hinds, Toby Jones, Brian F O'Byrne, Ruth Bradly and Niamh Algar? "Well, I knew there was a wealth of talent out there and we would choose a lot of Irish people.
"So we have a lovely mixture of Irish and British talent, I think.
"I'm particularly glad that the BIFAs have an ensemble award because I realised every award ceremony should have a way of marking the talent of those films, which are all about a group and how they work together."
On being honoured with so many nominations, Emma said: "It feels amazing, and also The Wonder has been reaching so many people worldwide.
"So in terms of both reaching viewers and the recognition of our peers, it's deeply satisfying to me to see this film get noticed."
The Irish World also spoke to Elaine and Kíla Lord Cassidy, the mother and daughter who star in the film.
Elaine is well known from roles such as Disco Pigs, No Offence and Intruder.
Elaine's thirteen-year-old daughter Kíla stars in The Wonder as Anna O'Donnell.
Kila told us: "It's pretty crazy, to be honest.
"I'm just so excited. I couldn't be more happy. I'm over the moon. And what happens happens and I'm looking forward to every single bit of it."
Elaine was struck by how different it was to the first and last time she attended the awards: "It was 21 years ago though, when it was in a tiny little black hall so it was a very different affair back then.
"It's been quite a while so to come tonight with Kíla, with the film, with all the nominations that it has had, a film that we really believe in and feel so passionately about and really enjoyed making and to celebrate and support independent film is so important.
"But as well on a selfish note, we're classing this as the wrap party we never had for the Wonder.
"It's gonna be a fun night."
Kíla added: "It's a pretty grand wrap party.
Kíla said of her role: "Instantly after reading it, I fell in love with how the writing was and how beautiful and complex the character of Anna O'Donnell was.
"The minute I read about her, I fell in love. And I knew I wanted to play her."
Elaine adds: "Working with Kíla, I mean working with Sebastien and all the cast and crew was pretty special.
"Yeah, it was a very special one and they don't come around all the time."
Kíla is the daughter of Elaine and Stephen Lord who is also an actor.
With two actors for parents, did she have no choice about going into it as well? "I think THEY had no choice in it. It was all me.
"They knew I would act at some point because it's in my genes, it's in my blood.
"They were trying to hold on until (I was) 17.
"Clearly, that didn't go as planned.
"I think it was all my decision. It's what I love. It's what I want to do when I'm older."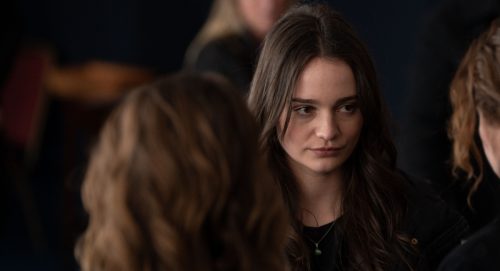 Dublin actress Franciosi was nominated along with her co-star Paul Mescal in the supporting category for her work in God's Creatures.
God's Creatures stars Emily Watson and is the story of a woman torn between wanting to protect her son and her own sense of right and wrong.
Aisling Franciosi told The Irish World on the red carpet: "I love the BIFAs.
"I think what they do is amazing and important, and after the couple of horrendous years we've had to be here at an in person event celebrating independent cinema, it feels great."
Of God's Creatures, she said: "I think it's a really powerful movie and I'm really proud to be a part of it.
"We shot it in Donegal, stunning locations.
"The story looks at some of the darker sides of a rural community in Ireland, and I think it explores topics that are very pertinent and that we still need to explore and tease out.
"I think it makes whoever watches it come away with questions, and hopefully that will spark conversation.
"I think Irish audiences will be seeing it next year so I'll be curious to see what they think."
Of working with Paul Mescal, Aisling said: "I think we were both like, 'Oh, my God, we're working with Emily Watson'.
"He would say that too.
"He's a phenomenal talent.
"He's an even lovelier person.
"And yeah, just to get to work with Paul and some of the other actors like Marion O' Dwyer, Toni O'Rourke, Declan (Conlon), the cast all brought their A game and everyone was just a joy to be with.
"We were filming in the middle of level five lockdown so it was quite a little special bubble we were living in for those few weeks."
Asked if it is an exciting time for Irish cinema, Aisling said: "Absolutely. I think Ireland has always turned out great talents in the arts, whether it be music, literature, acting film.
"Yeah, there are so many.
"I mean, An Cailín Ciúin, It's also great to start seeing other movies that have Irish language, like Arracht.
"I think we have a wealth of talent there and it's exciting to get it to see it more and more on the world stage."