If your passion is for the motorcycles of the pioneering era of the first decade of the twentieth century then you are faced with seemingly insurmountable problems if you hope to own and ride them. But the bikes of this era exude character and can be well worth the effort involved in bringing them to life again.
One enthusiast who has rebuilt or recreated a number of motorcycles from this era is an engine named Pavel Malanik, who is based in Czechoslovakia, and among his motorcycle projects has been an exceedingly rare Torpedo W-4, a motorcycle that was originally made by Czechoslovakian company Trojan & Nagl.
Fast Facts – The Trojan & Nagl Torpedo W4
Although sometimes referred to as a "semi-radial" the W-4 engine is distinctly different. The cylinders are arranged so that the piston connecting rods can all attach directly to the crankshaft.
One of the first motorcycles that featured a W-4 engine was the Torpedo W-4 made by Czechoslovakian company Trojan & Nagl.
The W-4 was a logical progression in motorcycle power for Trojan & Nagl: they began by making single cylinder machines, then an 814 cc V-twin, and then made the 1.6 litre W-4, whose engine effectively joined two 814 cc V-twins into a four cylinder W-4.
The Torpedo W-4 was first made in 1909 and there may only have been a single prototype produced.
Czechoslovakian custom motorcycle maker Pavel Malanik decided to re-create the Torpedo W-4 and successfully completed it. In order to do this he had to work from a single catalog drawing and some surviving component parts from other Torpedo models to logically figure out the dimensions and design so he could then make all the required parts in his home workshop.
What Is A W-4 Engine?
There have been relatively few motorcycles made with a "W" engine, either W-3 or W-4. What defines a "W" engine? It is the extension from a V-twin with either three or four cylinders, or banks of cylinders, arranged in a semi-circular "W" shape: a W-4 is effectively two V-twins joined together.
Although sometimes referred to as a "semi-radial" type of engine the "W" engine is unlike a radial engine because in a "W" engine the piston connecting rods each connect directly to the crankshaft, whereas in a radial engine the piston connecting rods attach to an articulating rod assembly with only one "master" rod directly attached to the crankshaft. So its easiest to understand a W-4 engine as being like two V-twins joined together, not like a radial engine cut in half.
One of the first of the motorcycles made with a W-4 engine was the rare 1909 Trojan & Nagl Torpedo W-4. This is a motorcycle that was made in Czechoslovakia back in 1908-1909 – and there may only have been one prototype made, making this one of the rarest motorbikes on earth.
František Trojan founded his bicycle and motorcycle company in 1901 in the town of Kolin, which is located in the Central Bohemia region of Czechoslovakia. In 1903 he was joined by Alois Nagl. The partnership made both bicycles and motorcycles under the "Torpedo" brand name, later branching out to attempt to make a motor car and an aircraft engine, essentially to test the market at that time. Their Torpedo company traded until 1914, at which point the First World War began. The historical record indicates they stopped trading sometime after that, possibly lasting up until the 1920's.
Back at that time there were a few companies making motorcycles under the "Torpedo" name and they were not related to each other. There were Torpedo motorcycles made by The Hornecker Motor Manufacturing Co. in the USA, and there were "Torpedo" brand motorcycles made in England and Germany in addition to Trojan and Nagl "Torpedo" of Czechoslovakia (at that time Czechoslovakia was a part of the Austro-Hungarian Empire so these Torpedo motorcycles were sometimes referred to as originating there).
The Trojan and Nagl Torpedo motorcycles used conservative technology for their internal combustion engines, with an emphasis on simplicity, reliability, and ease of maintenance. Given that they were making motorcycles in the pioneering era when few people had a good working knowledge of gasoline/petrol engines this was a sensible business move: Torpedo motorcycles needed to build up a reputation for reliability and value for money.
Partly to this end, for the Trojan and Nagl Torpedo motorcycle engines, IOE (Inlet Over Exhaust) types were used fitted with "automatic" atmospheric inlet valves. The atmospheric inlet valve is not actuated by a camshaft but instead opens because of the vacuum created in the cylinder head during the inlet stroke of the piston. The valve being closed by a spring that is not particularly strong because it has to balance between allowing the valve to open in response to cylinder vacuum but close sufficiently quickly for the combustion stroke to not experience gas leakage.
The atmospheric type of inlet valve provided the advantage of making the engine more simple both to manufacture and to maintain, but had the disadvantage of limiting the maximum engine rpm to a little over 2,000 rpm. This was not a big problem for road going motorcycles, roads at this time in history were mostly unsurfaced and mainly used for horse drawn traffic.
So with these old technology engines if more power was needed then one simply made an engine of greater capacity, and through that increased capacity gained the additional power and torque.
As you can appreciate from the diagram above these engines fitted with "automatic" atmospheric inlet valves look as if they have an extra but smaller cylinder on the side of each engine cylinder. This is to contain the atmospheric inlet valve mechanism and provide cooling for it: so an air cooled engine would have cooling fins both around the cylinder and around the atmospheric valve housing.
The Torpedo motorcycles had to compete in the marketplace against other Eastern European makers such as Laurin & Klement, which was the company that made the first straight four cylinder motorcycle in Eastern Europe in 1904, and who had a good range of machines on offer to suit the power and economy needs of customers of the time. Trojan and Nagl "Torpedo" motorcycles were likewise made with single cylinder engines, V-twins, and the most powerful bike the company produced, the W-4.
Resurrecting The Incredible Trojan & Nagl "Torpedo" W-4
The Trojan & Nagl Torpedo W-4 is one of the prettiest and most interesting motorcycles of the era before the First World War, and so it is no surprise that it caught the eye of Czechoslovakian motorcycle enthusiast Pavel Malanik.
Pavel Malanik is a toolmaker and machinist and he has a particular passion for the motorcycles of the period around 1900-1910: the pioneering era of motorcycling. Pavel had re-created a number of Laurin & Klement motorcycles prior to the Torpedo W-4. His first re-creation was of a Laurin & Klement "CCCC", which was the first motorcycle in Eastern Europe to be fitted with an inline four cylinder engine.
Pavel then went on to his three most famous projects: the Torpedo W-4, the North London garage J.A.P. V-twin speed record motorcycle of 1909, and his creation of a motorcycle made in the style of 1910 fitted with a J.A.P. V-8 aircraft engine of 4.4 litres capacity.
In between these three projects Pavel also built a Laurin & Klement L type fitted with an original 500 cc single cylinder engine, and a rare CCR type fitted with an original 812cc V-twin engine.
For the Laurin and Klement bikes there were more photographs and even component parts that had survived over a century and two world wars. But for the Trojan & Nagl Torpedo W-4 there was a line drawing in an old catalog, and there was some information regarding other Torpedo motorcycle models.
Torpedo's product line included a single cylinder models of 3½ and 4 hp, V-twins of 6 and 8 hp, the larger having a capacity of 814 cc, and a W-4, whose engine was effectively two 814 cc V-twin engines sharing a common crankcase and crankshaft. So armed with the drawings for the 814 cc V-twin and the catalogue drawing of the W-4 it was possible for Pavel to re-create accurate drawings from which to hand make all the parts to re-create the W-4.
Pavel was assisted by his friend Josef Kubista in the process of creating the drawings, and they worked together to find as much hard information about this project bike that they could. This included things such as the maker's dimensions including the bore and stroke of the engine, diameter of the wheels etc. Then from that one surviving picture and whatever other information that provides a clue, to accurately extrapolate the dimensions of the bike and its component parts.
The process is rather like that used by Sherlock Holmes to solve a case – careful observation and deduction – Holmes would describe this as being "elementary" – and indeed Pavel's investigation is based on careful examination of the elements of the motorcycle to arrive at an accurate data-set of it.
Pavel proceeded from the "sharp pencil game" of making accurate drawings of the parts he would need to create to sharpening up the cutters for his lathe and milling machine and the tools he would need once he started cutting metal.
With a challenging project such as this its generally best to do the hard part first and then the rest of the work becomes comparatively easier: and so Pavel started by re-creating the engine, and then built the rest of the bike around it.
Pavel's expertise is primarily in machining, and also in working with tubing to make motorcycle frames. This means that when it came to making the crankcase – which a manufacturer would commonly cast from moulds – Pavel did it the hard way, by machining it from a block of aluminium – with the advantage that its dimensions were very precise.
The crankcase was a key component, it had to support the crankshaft in perfect alignment and provide for the mounting of the cylinders, pistons and connecting rods. This required some strategic thinking which included cutting the crankcase in half along its vertical axis in order to be able to machine out its interior, and to allow for the fitting of the parts inside the completed unit.
The cylinders and the atmospheric valve units were each machined from a cylinder of steel complete with their cooling fins – then Pavel cut the side of each of the four cylinders so he could weld the atmospheric valve housings into place, and then the cast iron cylinder liners were pressed in.
Once the engine was complete Pavel made the frame, tank, wheel rims and forks, the two speed rear hub with its planetary gears, the carburettor and its manifold, and all the controls.
The ignition system of the Torpedo W-4 is of an old-fashioned type that did not use spark plugs. The system used on the Torpedo W-4 places contact breaker points inside each of the combustion chambers, with one side connected to the low-tension magneto and the other to earth. These points being operated by a pushrod which would cause them to open at the time the spark was required and create the spark directly in the combustion chamber.
Above Video: This slideshow video shows the in-depth process that was required to build the Torpedo W-4 from scratch.
Once the Torpedo W-4 was completed it was time for it to go for a bit of an excursion to the Montlhéry racing circuit for the Vintage Revival event where Pavel was able to get it out onto that banked circuit and open up the throttle to find out what a W-4 sounds like at full chat.
The answer was, of course, that it sounds marvelous and the bike demonstrated that it was capable of a top speed of about 120 km/h.
It took Pavel about 2,500 hours of work to re-create the Torpedo W-4 and at the end of the work he clearly reckoned that it had all been well worthwhile, because he went on to do two more full re-creation projects, and a couple of rebuilds based on old existing engines.
Pavel Malanik is without doubt one of those motorcycle enthusiasts who understands the value of a bike having character. Its the character of a motorcycle that gives its owner the greatest pleasure. Some like a bike that is quick, and/or quick handling, but many are not so interested in speed, but in having a bike with personality.
Imagine then how much satisfaction Pavel Malanik gets from his motorcycles that exude character, because they are bikes that he made with his own hands.
If you'd like to see more of Malanik's incredible work you can visit his official website here.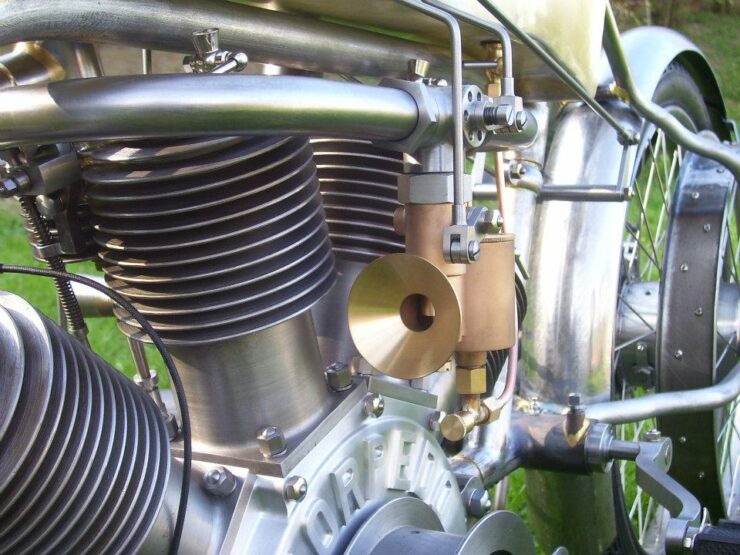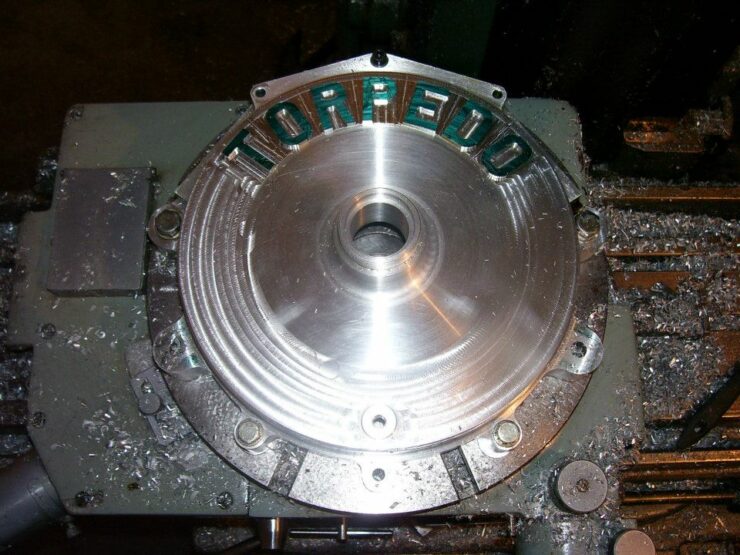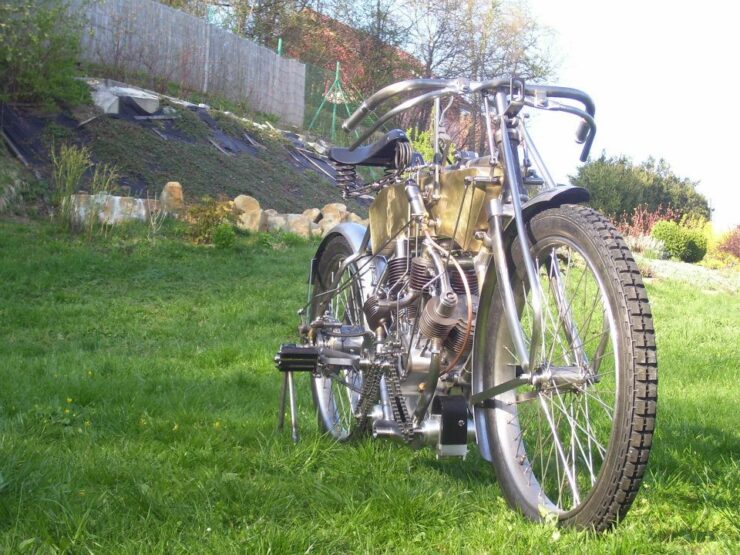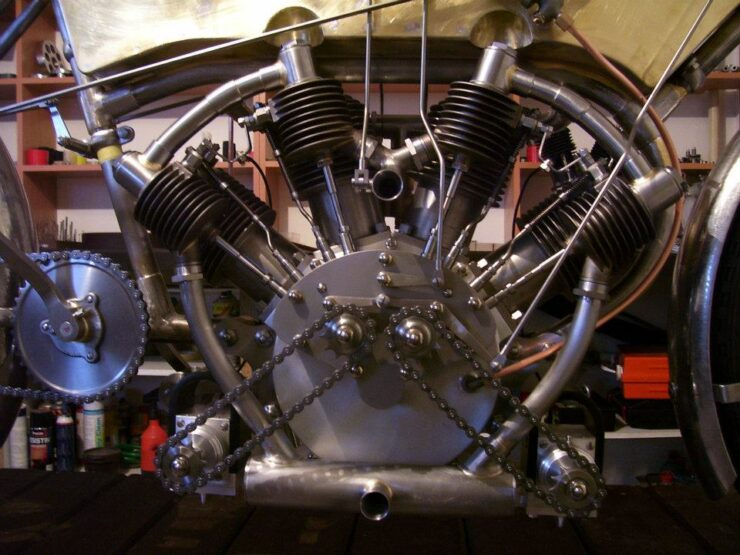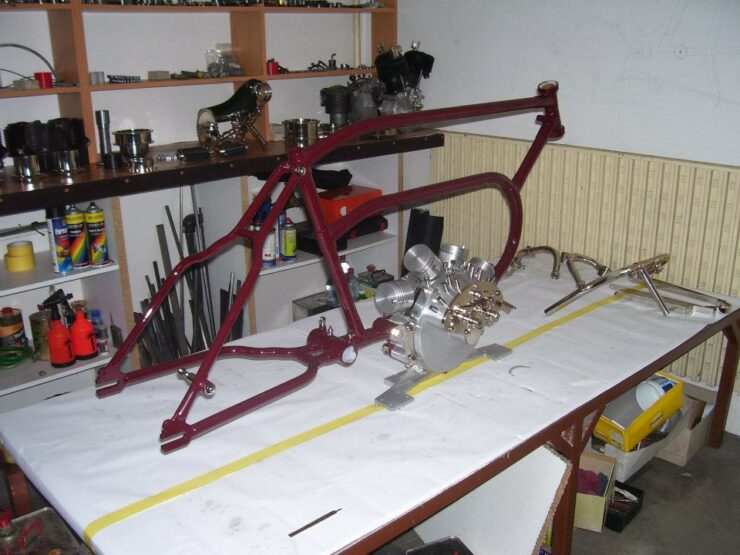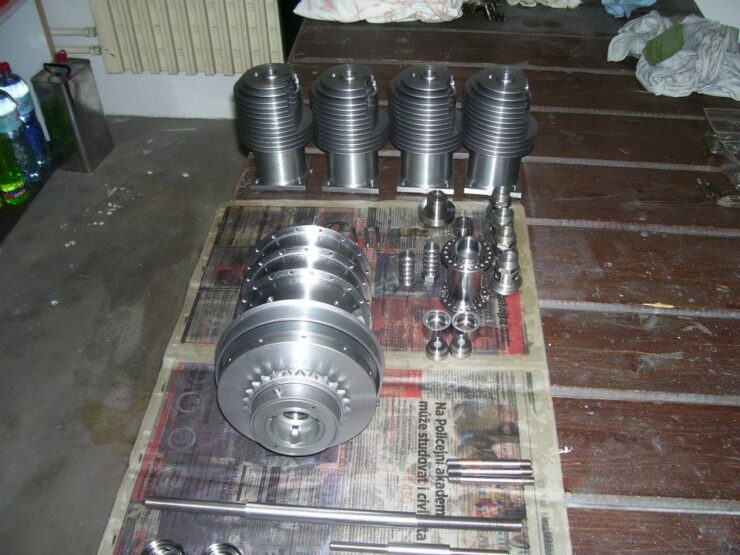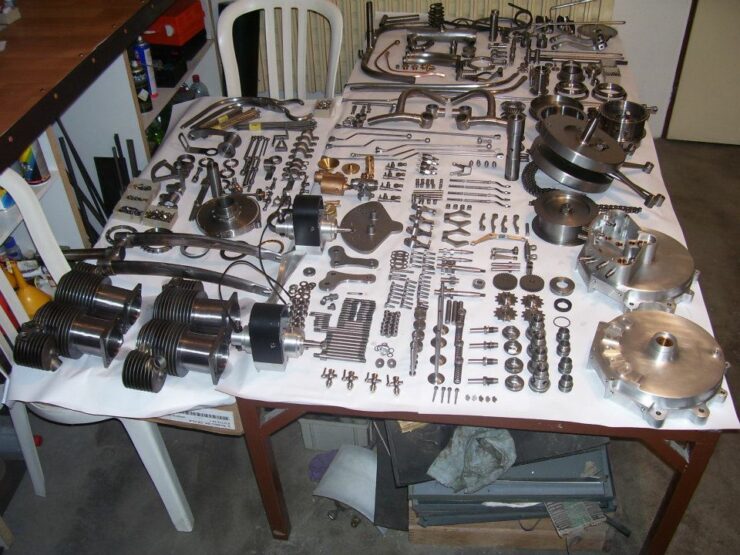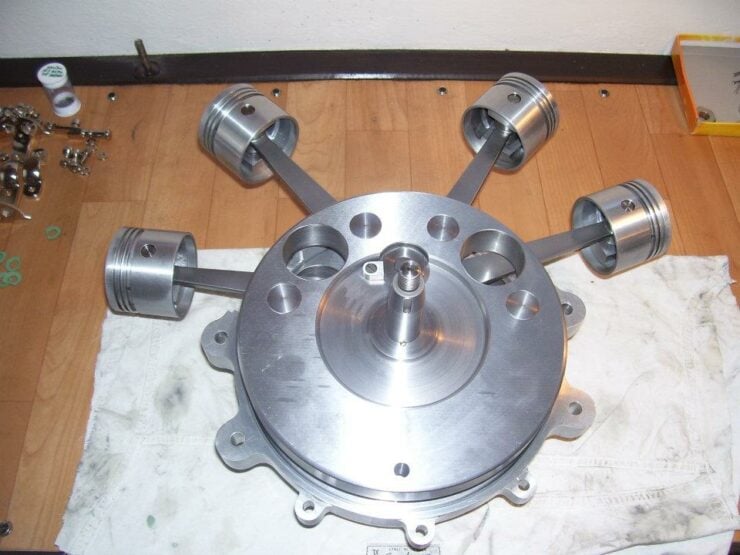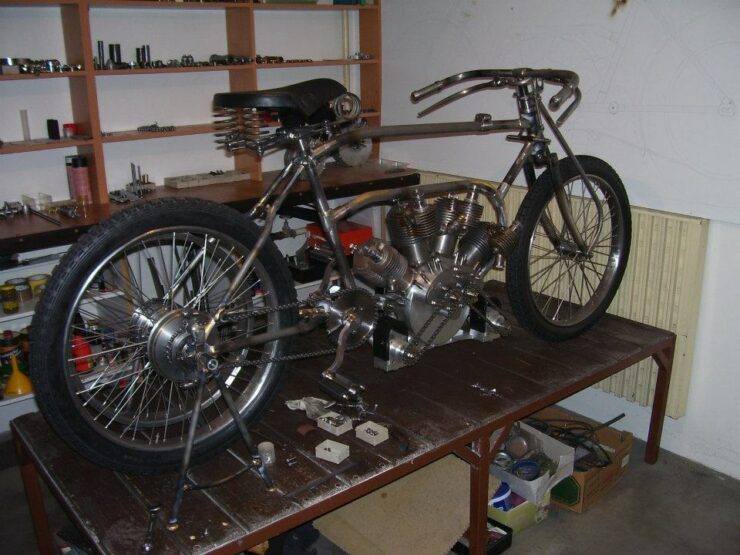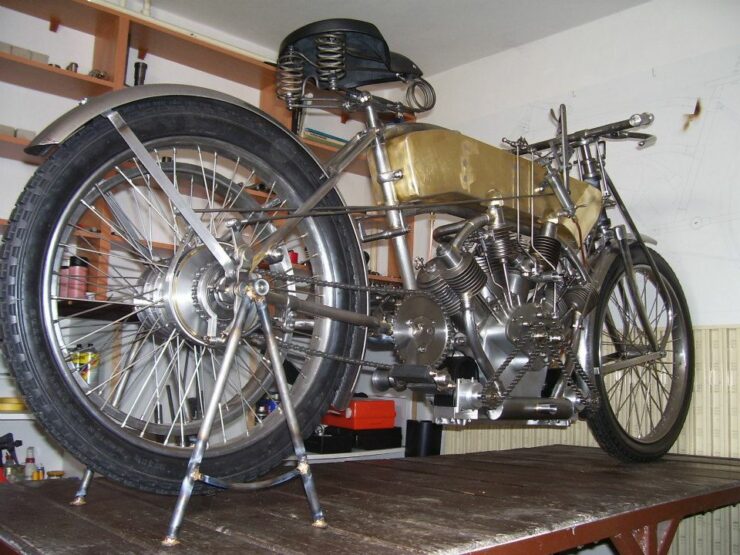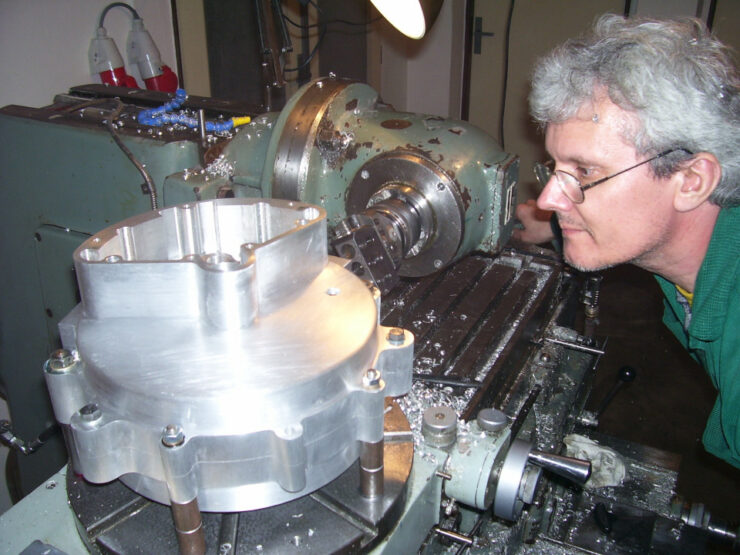 Picture Credits: All pictures of the Torpedo W-4 made by Pavel Malanik copyright and courtesy Pavel Malanik.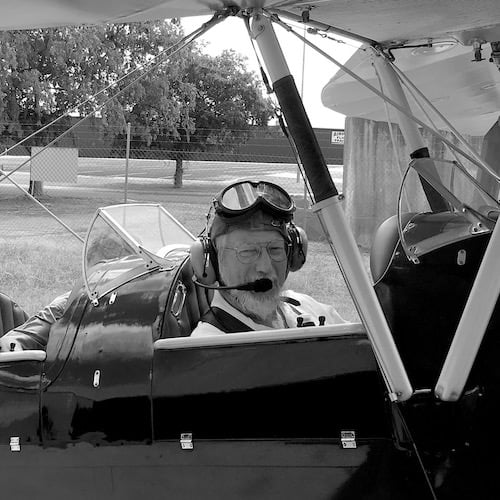 Jon Branch has written countless official automobile Buying Guides for eBay Motors over the years, he's also written for Hagerty, he's a long time contributor to Silodrome and the official SSAA Magazine, and he's the founder and senior editor of Revivaler.
Jon has done radio, television, magazine, and newspaper interviews on various issues, and has traveled extensively, having lived in Britain, Australia, China, and Hong Kong. The fastest thing he's ever driven was a Bolwell Nagari, the slowest was a Caterpillar D9, and the most challenging was a 1950's MAN semi-trailer with unexpected brake failure.