The Everymom's product selections are curated by the editorial team. If you buy something through our links, we may earn an affiliate commission, at no cost to you. We only recommend products we genuinely love.
When I found out that I was pregnant with twins, my world turned upside down. Almost immediately I began to question everything I thought I knew—were the tried-and-true baby product recommendations still relevant? Did I need to buy two of everything? (Answer: sometimes, and definitely not). My husband and I did a lot of trial-and-error in our first year of parenthood to figure out exactly which were the most useful baby products for twins.
Our identical twin boys are now 18 months old, and looking back, some of the best baby products for twins were ones never recommended to us. In those first twelve months, we navigated two sleep schedules, teething, feeding, and the (never-ending) seasonal colds. We quickly learned that although we didn't need two of everything, we did need a strategy with twins to keep some sanity for ourselves and make sure our boys were getting what they each needed individually too.
The Best Baby Products for Twins
These are 10 of the best baby products for twins we found most useful in our first year with the boys that don't always make their way into most "must-have" baby registry lists. Each of these got us through a lot of long days with two infants and also made it easier for us to get out of the house and see friends and family (and without too much hassle!).
1. Receiving Blankets
Amazon | Simple Joys by Carter's
Receiving Blankets, Pack of 7
It hadn't crossed my mind that our twins may be too small for swaddles when they came home. We used small receiving blankets (including the hospital ones!) for about a month until the boys grew into the velcro swaddles we had registered for.
multiple colors available
2. City Sleeper Bassinet for Twins
Amazon | Delta Children
Sleeper Bassinet for Twins
We loved this bassinet! It felt nice knowing the boys were sleeping close to each other but had the mesh separation between them. We were able to stock up on burp clothes and pacifiers in the front pockets for easy access in the dark.
3. Double Camera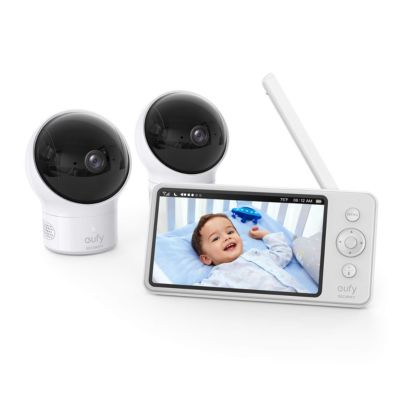 Amazon | eufy
2 Cam Video Baby Monitor
Even if you plan on a shared nursery, the two-camera option for a monitor is so worth it. 18 months later we still sometimes put one of the boys down in another room to avoid waking up his brother. The second camera gives you a ton of flexibility for naps!
4. Baby Brezza
Amazon | Baby Brezza
Advanced Formula Dispense
We relied on the Brezza for supplementing breast milk and then for all of their bottles until they transitioned to milk. It is so quick and easy for both parents and any caretakers, friends, and family to do themselves.
5. Joovy Twin Nursery Center
Joovy
Twin Playpen
This one got a lot of use. It served as a "home base" and did double duty as a changing table for any unexpected accidents. With the divider removed, an activity gym fits two—the best way to lay two babies down and keep them off the ground away from pets!
6. Skip-Hop Activity Center
Amazon | Skip Hop
Activity Center
Once the boys were rolling around in the Joovy, Skip-Hops became our go-to play space to keep them safely contained while we prepared bottles, changed laundry, etc. Surviving twins is all about having stations around the house, especially if you're solo parenting!
7. Uppababy Twin Travel Stroller
8. Portable Assisted Sit-Up Chair
Amazon | Fisher Price
Portable Baby Chair
Another favorite for the portability and also the support as the boys learned to sit on their own. Although pediatric physical therapists recommend using these positioning chairs sparingly, they made it easy for us to bring the boys to friends' and family homes and know we had a safe place to let them sit. With two babies, the folding aspect was key!
9. 
Folding Travel Bassinet
Having two travel bassinets was definitely worth it. We flew with travel bassinets but also used them when we went back to work (from home). They gave us an easy, safe place to put a baby down to sleep or play no matter where we were.
10. Bouncer Seat
Amazon | Baby Delight
Portable Bouncer
Another item that we invested in two of were these bouncers. Our twins were small at birth and they started trying solid foods before they were able to sit in a highchair. We used these bouncers for lots of rice cereal and purees before transitioning to real chairs! Plus, since we needed two, this option is a more budget-friendly dupe for the popular Baby Bjorn bouncer.
5 colors available
I Sleep Trained My Twins at 4 Months—This Is Why and How