The judo community is often referred to as a family, within this sport the athletes from nations around the world are intertwined, spending so much of their time on training camps and in competitions with rivals as well as training partners but in the end, they often see them more than their own families at home. This isn't necessarily true for a small group of athletes however. There are a few instances where siblings are on the circuit together, parents coaching their children, but today we talk to the German sister act, 22 year-old twins in fact; Mascha and Seija BALLHAUS. 

Thankfully, training with one another is where it ends as they compete in separate weight categories; Mascha is ranked 12th in the world in the -52kg category and Seija is at number 45 in the -57kg weight. What they do have in common, and especially in 2023, is that they've been on a medal collecting campaign, or at the very least stepping out on to the tatami in the final block and notably, a familiar face has been sitting in the coaching chair; Erika MIRANDA. 
For those without her rap sheet at hand or etched in their memory, Miranda holds six continental titles, five world championship medals, a masters bronze, and not to mention, a slew of grand slam and grand prix medals for Brazil. A collection to be incredibly envious of. Now with all that glory came plenty of experience that she seems to be successfully passing on to the next generation and her athletes are reaping the rewards.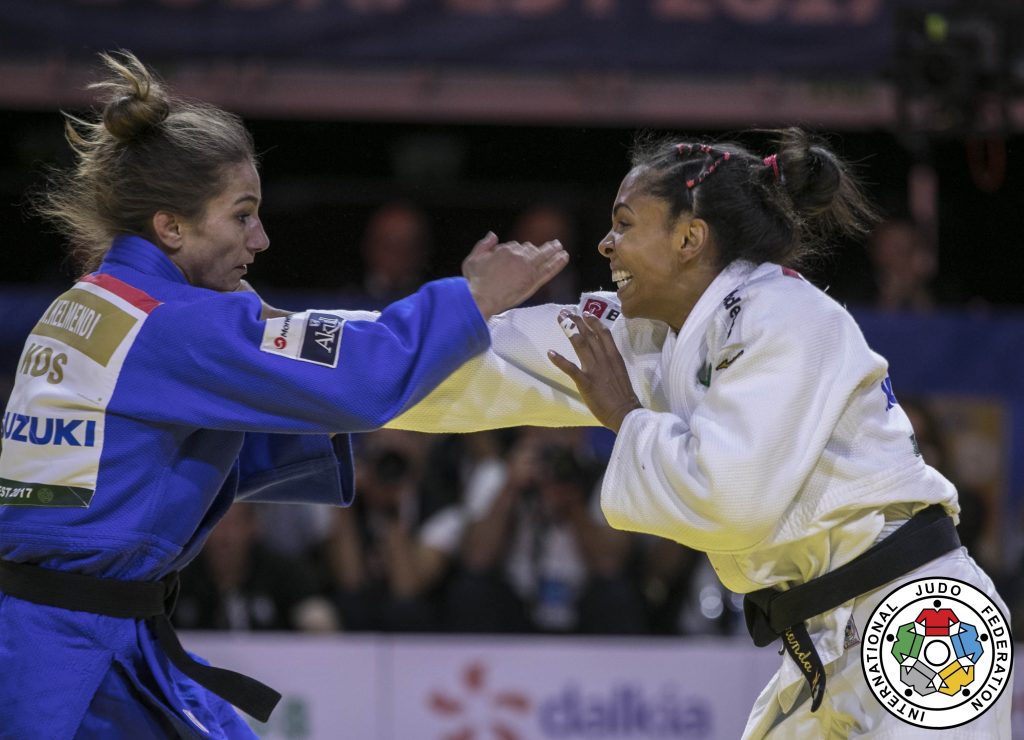 Erika: We started working together when I started working in Germany, it's been one and half years, maybe a little bit more. With Mascha she has a crazier schedule so I get a little more time together with Seija. I am so happy because the past year has been a great challenge, this is my first job and I have had such good luck working with a great team here in Munich and working with the girls. The Ballhaus girls always have this fire and love to train and I think they've improved so much in the technical part and the girls feel much more confident and happier. It might not be everything but it has been important in their recent results. 
Mascha: I think with Erika, she gives us lots of confidence, we believe more in ourselves and every training she tells you that you're strong, that you can win the medal and I think we work a lot with our minds. Also we have done much more gym work to be stronger. For me I competed in a lot of tournaments last year, sometimes it went well, sometimes it didn't and it was good for experience to feel the pressures. 
Seija: For me, Erika has a completely different style of training and judo than we did before with other coaches so we had new input which is working for us.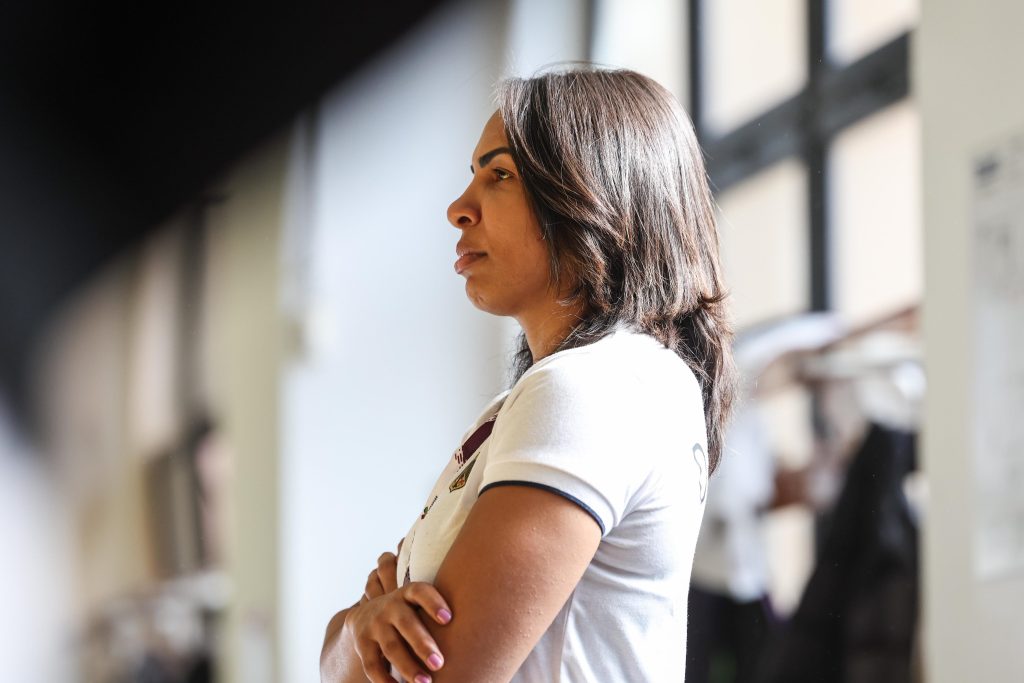 If anyone has had the opportunity to see Miranda in action in the coaching chair, she is the mega motivator and looks like she would be happy to physically fight with her athlete to the final seconds. When asking about her 'chair antics', she is already laughing. 
E: So much passion! When I was an athlete it was so easy, you know I'm scared but whether I won or lost it only depended on me, even if the coach was giving some tips but sometimes I feel like I must say something in the right moment for something to happen. Then of course the referees ask me to be quiet so I am really trying to control this but it is so hard. Even at the end of the day, I feel like I've been competing as well, the same nerves, the same pains, everything! 
There may be the generic nerves, but the Munich-based coach has great belief in these athletes. 
E: It is a point in Germany that the athletes really are in great shape in terms of their bodies but I think the problem was transferring that power on to the mat. So here in Munich we are doing much more judo, transferring this 'gym power' to the mat becomes much easier and the girls train so many randori. I know that when these girls go to golden score, someone will throw, their endurance is amazing and I really have confidence in them. 
Looking back at the Warsaw European Open, Seija went in to a gruelling golden score for her bronze medal contest,
E: For Seija it was going on so long and she started looking at me like 'no more' and I was shouting back 'one more come on!' And then she threw, I felt such relief!
S: Well this contest, wow, I think I'm the type of fighter who just never gives up even when I have to fight 20 minutes, every time I will stand back up and go again to throw, but Erika was outside the mat and she really pushed me, 'one more minute, you can do this, you can throw', in the end I managed it because I wanted the medal so badly.
Later on in Tbilisi, Miranda found herself in the coaching chair for the first time with Mascha, competing for the bronze medal and instead of a ten-minute battle, the score came very early. 
M: I fought against Primo and the last year and a half I lost like five times against her, then at the beginning of the year in Tel Aviv it was the first time that I'd won so now I think, I did really want that medal for myself in Tbilisi, but also for Erika, she believes so much in us and I wanted to win this for her. I scored really early in the contest and then basically fought for my life [they laugh]. In Tashkent, Erika missed out on celebrating the medal with me and I know she was sad about it, but in Tbilisi, of course I had Erika, and also Seija was there so it was nice that our team was together.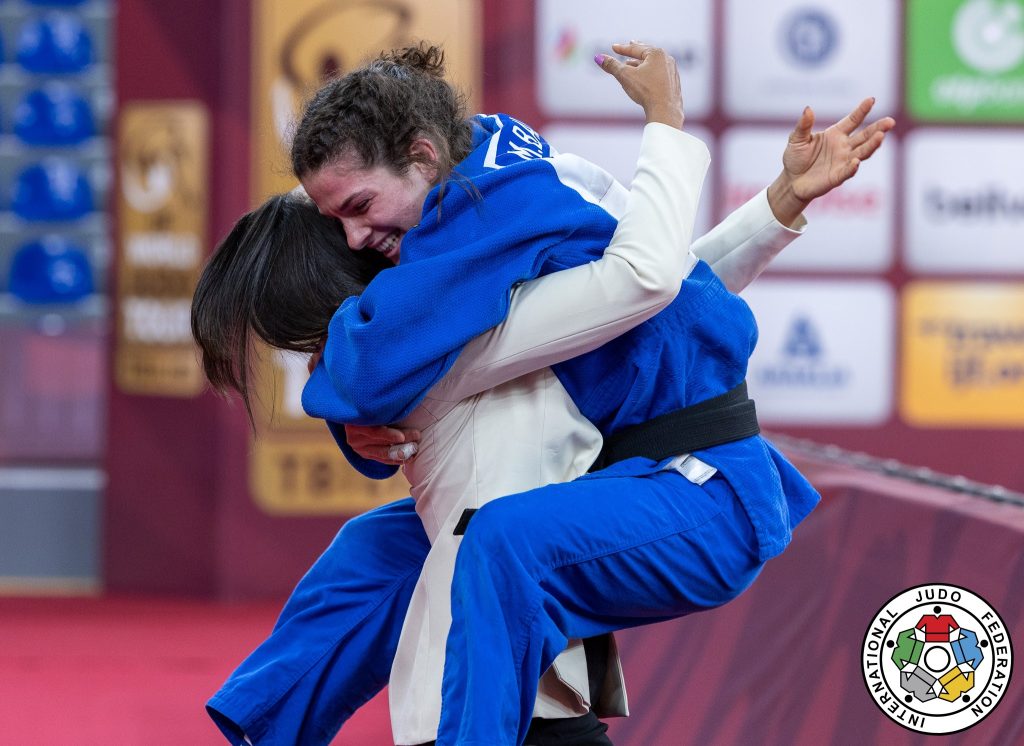 Win or lose, Miranda is an exemplary person and coach when the athletes leave the tatami, positivity and understanding exudes and it is seen mirrored by the athlete. 
E: It is very strange, when I was an athlete, I pushed myself so hard so when I came to grand slams and sometimes in to the final, I could say to myself 'yeah it's okay' but now, even coming away with these 5th places it makes me so happy, I can really enjoy the result so much more as a coach than I did as an athlete. 
So, coaching any athlete can have it's positives and negatives, how is it to be coaching not just sisters, but twins? Now they are back together for the senior world championships, there is a sense of ease with them, how are they feeling before heading out to Doha together? 
E: It is really hard to answer this one, they are twins, they feel each other, when one is sad, so is the other, and sometimes their schedules mean they are apart and you feel the training is not so good at home but I think they are learning more and more that they help one another but in the end the goals are different. But you see it, they are twins, but they are like one. 
M: This year I am much more confident, last year I just wanted to enjoy Tashkent and have a look how it was, but this year my goal is not only to just be a part of it, but to fight for a medal. 
S: I am very happy that I am allowed to compete because last year I was injured a lot of the time so I didn't expect that I would be able to fight this year. It has been a good year with good results so yes I am happy that I achieved this and go to the world championships with Mascha. 
M: It's so nice because when we were younger we always travelled together and then at the beginning of senior level Seija was injured and I travelled a lot without her, it was really new for me to be in the team but alone. 
S: For me too! To stay at home without her! 
M: When we travel together we stay in the same room and having a part of your family with you, being able to talk about everything, making all these memories together is very cool. 
S: We have the same dream so we can really push each other and support each other. 
The idea that success breeds success appears to have become reality for the Ballhaus sisters with Miranda leading the way, and in only a matter of days now we will see the pair take on the world, and for Seija, have her senior world championships debut. 
Author: Thea Cowen
---
Share
Tweet
Telegram
WhatsApp
E-Mail