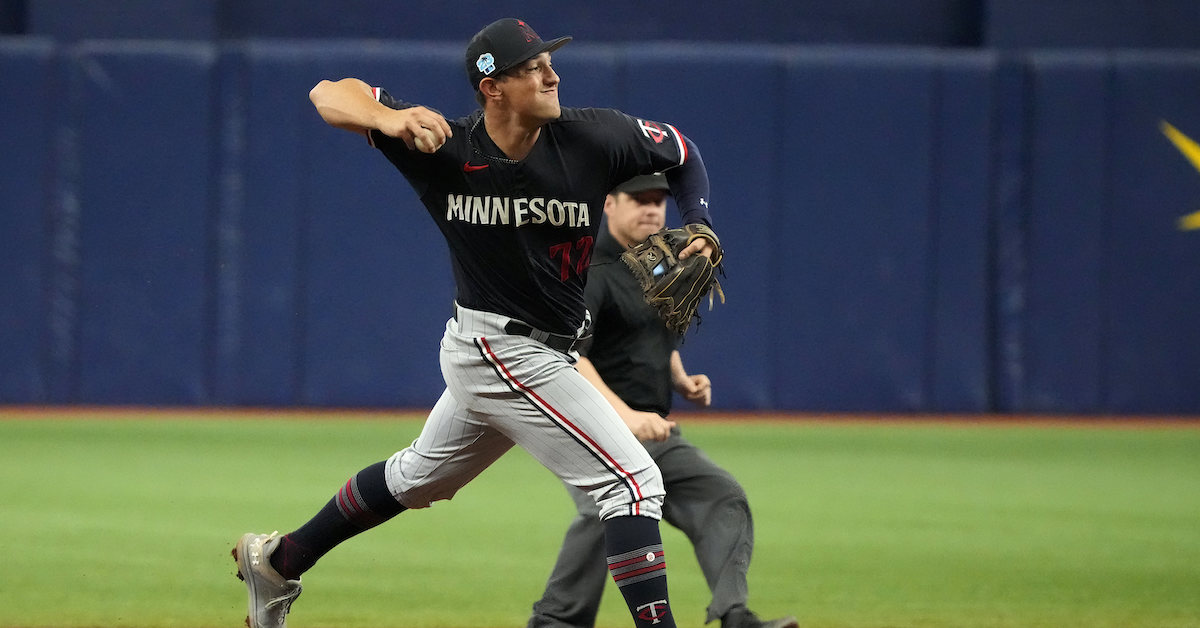 Top Prospects Series
Below is an analysis of the prospects in the farm system of the Minnesota Twins. Scouting reports were compiled with information provided by industry sources as well as my own observations. This is the third year we're delineating between two anticipated relief roles, the abbreviations for which you'll see in the "position" column below: MIRP for multi-inning relief pitchers, and SIRP for single-inning relief pitchers. The ETAs listed generally correspond to the year a player has to be added to the 40-man roster to avoid being made eligible for the Rule 5 draft. Manual adjustments are made where they seem appropriate, but I use that as a rule of thumb.
A quick overview of what FV (Future Value) means can be found here. A much deeper overview can be found here.
All of the ranked prospects below also appear on The Board, a resource the site offers featuring sortable scouting information for every organization. It has more details (and updated TrackMan data from various sources) than this article and integrates every team's list so readers can compare prospects across farm systems. It can be found here.
Other Prospects of Note
Grouped by type and listed in order of preference within each category.
Catching Depth
Carlos Silva, C
Alex Isola, C
Pat Winkel, C
Andrew Cossetti, C
Silva (not the 280-pound righty who also once played for the Twins) signed for $1.1 million in January as a power-hitting catcher with a maxed frame. Isola, Winkel, and Cossetti are all bat-first catchers who have work to do behind the plate.
Upper-Level Depth Relievers
Blayne Enlow, RHP
Jaylen Nowlin, LHP
Kody Funderburk, LHP
Carlos Luna, RHP
Jose Bravo, RHP
Sean Mooney, RHP
Enlow is carving Double-A even though his fastball has lost nearly three ticks from last year. He's commanding his heater up and to his arm side, and righties struggle to parse his in-zone breaking ball from his heater when he sets it up there. He could still be a low-leverage multi-inning reliever. Nowlin, 22, is starting at High-A Cedar Rapids right now, sitting 91-93 mph with a good slider. An eventual bullpen move might give him viable big league heat. Funderburk sounds like one of your old man's fake swears, but he's a 26-year-old lefty with a sneaky low-90s fastball and a fair slider. Luna, 26, is a great upper-level emergency depth arm with command of a bunch of 45-grade pitches in his slider, changeup, and riding 90 mph fastball. Bravo, 25, has six pitches if you count his four- and two-seamer as different offerings, the best of which is a power mid-80s changeup. Mooney, 25, had success as an older starter at Double-A in 2022 thanks to his three pitches' big breaking action. He sits 92 and mixes in an average slider and changeup, but he hasn't pitched for a while due to shoulder tendinitis.
Younger Guys With Upside
Anderson Nova, OF
Rafael Cruz, 3B
Bryan Acuna, 3B
Alejandro Hidalgo, RHP
Nova, 18, is a mature-framed, lefty-hitting outfielder with sizable present power. Cruz, 19, is a SS/3B with plus bat speed and a very raw overall game. Acuña comes from the talented Acuña family. He has plus bat speed, but his plate coverage isn't very good, and I consider him to have a high-risk hit tool. Hidalgo came over from the Angels in the Gio Urshela trade and has struggled. At peak, he'll sit 94 mph, touch 97, and show you a hammer curveball, but his velo and strike-throwing have been absent for the last year or so.
Corner College Bats
Ben Ross, UTIL
Jorel Ortega, 3B
Aaron Sabato, DH
Ross comes from Division-II Notre Dame College in Cleveland and is playing all over the diamond in the Midwest League, a potential super utility guy with vanilla offensive tools. Ortega, a Day Two pick from Tennessee in last year's draft, is crushing Low-A right now, but he should be after seeing SEC pitching for a couple of years. He hit 18 bombs last season and has big league physicality and power, which he most readily taps into when he can get extended and blast pitches up and away from him. Sabato, a former first rounder, produced some of the highest peak exit velocities in the minors last year, but he swings and misses a ton and is at the very bottom of the defensive spectrum.
System Overview
The AL Central-leading Twins have an above-average farm system thanks largely to their ability to acquire and develop pitching, and in spite of some recent early-round whiffs in the draft (like Alerick Soularie, Aaron Sabato, Keoni Cavaco, and Noah Miller, who is just okay). They target soft-tossing strike-throwers, often from smaller college programs, whose fastballs have underlying traits that will either enable them to play at a serviceable level if they sit 90 mph forever or really blow up if they start to throw harder. The players who break out (like David Festa and perhaps traded lefty Cade Povich) tend to be the more athletic, bigger-framed guys, while slower twitch guys like Bailey Ober and Brent Headrick have hovered around 90.
Because the Twins have had mixed success at the big league level during the last five years, they've made some sellers trades that have pulled prospects into the org from other systems. They cover the complexes pretty heavily and have been ready to pounce when the opportunity to do so has presented itself, most recently by plundering Byron Chourio from the Marlins. Even when they've made deals from a place of neutrality, like the Arraez/López trade, they've tended to get multiple prospects back in return, which has helped keep the system fairly deep. This is despite the buyers trades they made for relievers at last year's deadline. In particular, the four-for-one swap with Baltimore that netted Jorge López cuts pretty deep right now because Yennier Cano is out-pitching López on his own so far in 2023. The Twins clearly had holes to fill last year and you have to give up something to get something, but you shouldn't give up something, something, something, and something.
Minnesota is once again leading a weak division and is in position to add to the big club at the deadline. They are flush with fairly young, left-handed hitting power bats who aren't "prospects" anymore, but the group that includes Trevor Larnach, Alex Kirilloff, Matt Wallner, Edouard Julien, and 30-year-old Max Kepler strikes me as the well most likely to be drawn from in trade discussions because of their collective redundancy. The optionable starters on the 40-man are similarly deep.