Louie Varland didn't spend the offseason planning for an easy ride to MLB stardom. He didn't head to the Dominican Republic or Mexico to play winter ball. He didn't hang around with an entire entourage of MLB players (aside from his brother Gus Varland , who is currently rehabbing in Triple-A for the Milwaukee Brewers). 
Instead, he mixed in his off-season workouts around a side hustle working for the man. More specifically, he worked for his old man, Wade, who owns Varland drywall. Surely, plastering drywall didn't have some magical effect on his pitches, their individual intricacies and his execution of each offering. But those pitches in his repertoire are already off to a great start for the 25-year-old. They even share some key characteristics with a certain surefire future member of the Hall of Fame. So what has made Varland Drywall's ace effective so far in his young career, and what can he patch up if he wants to reach his ceiling?
One of the young right-hander's biggest areas of growth over the last few seasons has been his fastball, especially in terms of adding velocity. He topped out at 88-89 mph while pitching for Concordia University, St. Paul, but has already ramped all the way up to averaging 95.7 mph on his heater in 2023. In his game this week against the Padres, he hit 99 mph. 
On its own, that velocity is solid, if unspectacular (45th percentile). But Varland's fastball also boasts above-average spin, creating more deception for opposing hitters. So far, his four-seamer has resulted in a 26.1% whiff rate in his three starts, which is above the league average over the last two years (22.3%). 
He works quickly, using that fastball early in counts so that he can set the table for his strong secondary offerings. His changeup has had more swinging-misses than any of the other options in his repertoire (43.5% whiff rate), but he's limited damage with his high-spin cutter (.267 opponent slugging percentage). On top of that, he has a plus slider that he's used less often in 2023, but was his most effective offering in 2022. Look for him to start using it more as the season progresses and the league adjusts to him as a more permanent fixture in the Twins' rotation for the time being. 
Interestingly enough, Varland's pitches have a high similarity score to those in Max Scherzer's 2022 repertoire in terms of velocity and movement according to Baseball Savant. Granted, this doesn't mean that he's bound to follow in the steps of a three-time Cy Young award winner. But it's encouraging to see that his raw stuff bears a resemblance to a frontline starter in a season where he had a 2.29 ERA and struck out 30.6% of opponents faced.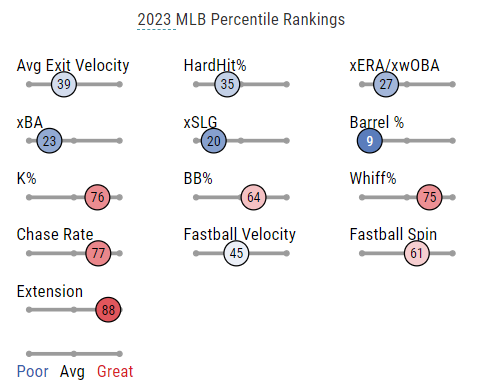 In order to have a performance in the same realm as Scherzer had when he was healthy last year, Varland is going to have to find a way to limit the damage on that same fastball that has developed into a mid-to-upper nineties weapon. While its growth has been impressive, it still gets knocked around a decent amount. It's not uncommon to have a higher expected slugging percentage on fastballs, but Varland's .690 mark in that regard is not sustainable for how essential it is when it comes to setting up the rest of the at-bat. This can be seen in the fact that he currently finds himself below average when it comes to barrel percentage (9th percentile) and average exit velocity (41st percentile). When hitters get a hold of one, it gets plastered, and not in the way that Varland is familiar with.
With veterans Tyler Mahle and Kenta Maeda out for the foreseeable future, Varland is going to have an extended opportunity to hone his craft at the game's highest level on the fly. Like he did with his dad in the offseason, he'll have success by hitting the corners, working quickly and paving over the cracks that are presented to him. 
What do you think? Have you been encouraged by the North St. Paul product? What are reasonable expectations for Varland going forward? Let us know what you think in the comment section below.