Don Mincher was a unique man. "Minch" entered the world on June 24th, 1938, in Huntsville, Alabama—a place soon to experience rapid growth during World War 2 thanks to the Army-established Redstone Arsenal. Throughout an extensive 13-year MLB career, Mincher blasted precisely 200 regular-season home runs, collected a World Series ring in 1972 with the Oakland A's, and became "the only player to see the end of both Senators' runs in Washington" (Branch, 2010). A Twin for six seasons, he provided thump in a lineup brimming with star power.
After eschewing the University of Alabama's offer to play football, the 6'3" 205-pound Mincher signed with the Chicago White Sox for $4,000 in 1956, beginning his professional baseball career (Aaron, 2019). Mincher marinated in the minors, developing a power stroke—he blasted 23 homers in 1958 and 22 in 1959—as the White Sox excelled in the American League. The class of the league in 1959, Chicago decided that neither Mincher nor a young Norm Cash would be suitable first basemen for their club, and they dealt Mincher along with catcher Earl Battey and $150,000 to the Senators for first baseman Roy Sievers.
Sievers was an excellent addition to a veteran White Sox squad, making an All-Star team in 1961, but Chicago probably regrets that trade.
Mincher finally debuted in the majors after the deal, donning a Senators uniform in 1960, but inconsistent play limited his time with Washington; 1961 was much the same. 1962 and 1963 were kinder, as Mincher took advantage of pinch-hitting and spot starts to slash .251/.372/.509 over 400 combined plate appearances, but with Harmon Killebrew destroying baseballs at an unbelievable rate, playing time was tough to find.
1964 and 1965 put Mincher on the map. In '64, Mincher clocked more than 20 homers for the first time in his career; he would do so five more times.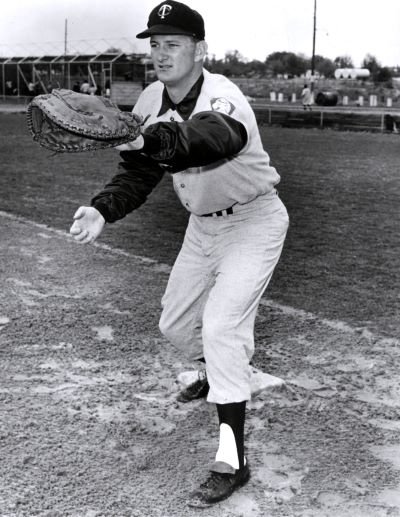 Mincher didn't accrue 400 plate appearances in a year until his age 27 season in 1965 (image courtesy of the National Baseball Hall of Fame)
But 1965 proved to be the most memorable season for Minnesota, for Mincher, and for the circumstances that brought the slugging team to a World Series. Always a winning ballclub, the Twins struggled to break out of the dense American League in their early days, consistently falling behind Mickey Mantle's Yankees and other assorted breakout clubs that denied Minnesota a chance at postseason glory. These were the days when one team per league went straight to the championship series; good wasn't good enough.
Fortune changed in 1965, although not immediately. Mincher didn't start until May 19th—a typical development for him—but his time at first base picked up soon, as Killebrew started to play at third base to get Mincher's bat in the lineup (Henninger, 7). Playing time roared into overdrive after Killebrew suffered an elbow injury in early August; Mincher was prepared to handle it. He "picked up the slack," netting an OPS of .815 in August while reaching base at a .375 clip in September and October and finishing third on the team with 22 homers (Halsted, 44).
Mincher's hitting aided a smooth Twins effort to win the American League. The 1965 Twins easily swiped the pennant, winning 102 games and besting the second-place White Sox by seven victories. With 1965 MVP Zoilo Versalles manning short, future MVP and Hall of Famer Harmon Killebrew in the infield, Hall of Famer Tony Oliva in the outfield, and a rotation that included Hall of Famer Jim Kaat and future Cy Young winner Jim Perry—to say nothing of Mudcat Grant and his 14 complete games in 1965, Camilo Pascual and his legendary curveball, or Earl Battey's five All-Star game selections, or the criminally underrated Bob Allsion—the 1965 Twins were bursting with elite talent.
The Dodgers were a different tale. Forced to go to the wire for their pennant, Los Angeles boasted a below-average offense carried by the mystical force of Sandy Koufax's left arm and Don Drysdale's opposing appendage. While Minnesota scored an astounding 4.78 runs per game to lead the AL, the Dodgers could only muster 3.75, the sixth-worst in MLB. Their pitching carried the day, as Koufax, Drysdale, and Claude Osteen fronted an intimidating rotation while future Twin Ron Perranoski shut down games in relief.
The Dodgers won the series by riding Koufax in a heroic Game 7 effort, but Mincher etched his place in baseball lore, smacking a hefty homer off Drysdale in the 2nd inning of the series' opening game. He collected singles in Game 2 and Game 3.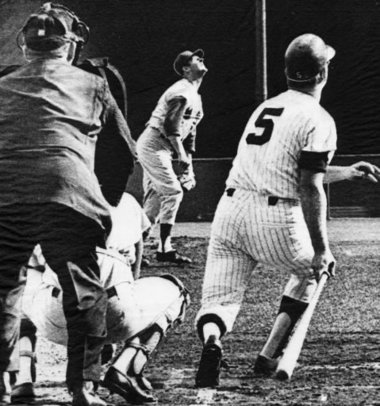 Don Drysdale finished 5th in MVP voting in 1965, but Mincher still tagged him for a homer in Game 1 of the World Series (image courtesy of Alabama.com)
Mincher's 1966 play, like the rest of the Twins, was disappointing. Still, he re-entered baseball history by being one of five Twins to homer in an inning during the 7th inning of a game against the Kansas City Athletics on June 9, 1966, still an MLB record (B/R Bullpen). Rich Rollins, Oliva, Killebrew, and Versalles were his home-run compatriots. The Twins traded Mincher following the season to the Angels for starter Dean Chance who made the American League All-Star team for Minnesota in 1967.
Mincher became something of a journeyman after his time in Minnesota. He, too, made the All-Star team in 1967, but a down season in 1968—punctuated by a frightening blow to the cheek by a Sam McDowell fastball—allowed the Angels to leave him unprotected in the expansion draft; the Seattle Pilots selected Mincher with the first overall pick (Markusen).
Mincher's 1969 season was excellent—far better than anything the porous Pilots could produce—and he was named an All-Star for the second time in his career; he is the only player to ever serve as an All-Star for the Pilots as they packed up shop and headed to Milwaukee following an atrocious season. Jim Bouton in Ball Four—the historic, controversial account of the Pilots in 1969—called Mincher a "good fellow," despite Bouton's comedic prejudices over southern accents (Bouton, 56, 114).
Though the Pilots folded and trekked east to Milwaukee, Mincher remained on the West Coast, joining the Oakland A's after a trade before the 1970 season. Mincher remained productive, slugging .460 over 140 games with a team featuring Mudcat Grant and young budding stars in Reggie Jackson, Rollie Fingers, and Vida Blue. Oakland traded Mincher to the zombie Senators in May of 1971, where he teamed up with an aging Frank Howard and received coaching from Ted Williams; it was Washington's final season with an MLB franchise before the Nationals opened up shop in 2005.
1972 was a slog. The Rangers, wandering spirits under Williams, dealt Mincher back to Oakland in July. Almost solely used as a pinch-hitter, his magic was gone, and Mincher struggled mightily down the stretch. Still, he reared back for one last moment of greatness, smacking the game-tying single in the 9th inning of Game 4 of the series; Oakland won the game and beat Cincinnati in a legendary 4-3 series victory.
Fresh off winning a championship, Mincher felt the weight of brutal exhaustion. His inconsistent playing time frustrated him, and—in combination with a shoulder injury that turned combing his hair into a painful endeavor—Mincher ended his time as a player (Aaron, 2019). 
Mincher retired after the 1972 season. Despite owning a World Series ring and etching his name onto two All-Star rosters, a sense of misunderstanding hangs over his career. A more enlightened method of analyzing hitting reveals him as an overlooked bat, an OBP and slugging specialist whose advanced stats compare well to Rhys Hoskins—a consistent, unquestioned everyday starter. Yet, Mincher only topped 500 plate appearances in a season three times and was always relegated to a role that did not fully utilize his skills. Having the greatest Twin in history locked down at first base during the heart of his prime didn't help, either. 
Minnesota's hitting leaderboards reveal Mincher's brilliance. Despite playing in an era of suppressed offense, he ranks with the 5th-highest slugging percentage in team history, the 11th-highest wRC+, and the 9th-best walk rate. He slugged more than Kent Hrbek, walked at a higher rate than Joe Mauer, and provided more adjusted offensive firepower than Kirby Puckett (Fangraphs). 
Mincher would never boast about these numbers; he preferred to talk more about his teammates than himself.
Baseball was not done needing Mincher. The Huntsville Stars, a minor league team in the Southern League, coaxed him away from his post-playing career sporting goods venture. He became their general manager in 1985 (Aaron, 2019). 
In 2000, he took over as the interim president of the Southern League, soon losing the "interim" moniker as he presided in the role until his retirement in 2011 (Aaron, 2019). Mincher entered the Alabama Sports Hall of Fame in 2008 (B/R Bullpen). In 2010, he earned the title "King of Baseball." (McCarter, 2010)
Mincher passed away on March 4th, 2012, in Huntsville, Alabama.
————————————————————————————–
Twinsdaily's formatting doesn't allow for footnotes, my preferred style of citation, so I used the Author/Date system in the text with my bibliography here. Sources are listed alphabetically, not necessarily by use.
Sources:
Aaron, Marc Z. "sabr.org/bioproj/person/Don-Mincher," SABR, 2019.
https://www.baseball-reference.com/bullpen/Don_Mincher
Bouton, Jim "Ball Four," Turner Publishing Company, 1970.
 Branch, John "A Twin, a Ranger and, Most of All, a Senator," New York Times, October 6, 2010.
https://www.fangraphs.com
Halsted, Alex "100 Things Twins Fans Should Know and Do Before They Die," Triumph Books, 2011.
Henninger, Thom "The Pride of Minnesota: The Twins in the Turbulent 1960s," Lincoln: University of Nebraska Press, 2021.
Markusen. Bruce "#CARDCORNER: 1968 TOPPS DON MINCHER," baseballhall.org.
McCarter, Mark "Huntsville's Don Mincher named 'King of Baseball,'" alabama.com, December, 9, 2010.