ROCHESTER – The premier Vikings Bar in the city of Rochester became a Twins Bar for the night as the Twins Winter Caravan's final leg made a stop at Whistle Binkies on the Lake Monday night. 
Featured on this leg were Twins manager Rocco Baldelli, pitcher Louie Varland, hitting coach David Popkins, former Twins reliever and current Special Assistant to Baseball Operations LaTroy Hawkins, and radio play-by-play announcer Cory Provus. 
Popkins joined his first-ever Winter Caravan for the Twins on this leg and embraced more frigid temps than he had grown up with in San Diego. He joined the leg to spend more time with and bond with Baldelli as Popkins only joined the Twins in 2022. 
"We're getting to be more comfortable here and our relationship is building to be pretty strong," Popkins said. "The feeling-out period is over and now it's in that family period, which is where the fun stuff really happens. It's been a pleasure to get closer to him and he's an incredible person so we look forward to a pretty fun environment."
It had been 20 years for Hawkins since he had last been a part of a Twins Winter Caravan. Coming back to the Twin Cities for Twins Fest and hopping on the Caravan was just another round of trips that Hawkins has had all off-season. His latest trip before coming back to Minnesota was to Arizona for the MLB Dream Series.
"It's a three-day event over MLK weekend every year. We talk about baseball and show the kids that there are other jobs in Major League Baseball that you can get; umpiring, front office, content management, and just about anything with an organization," Hawkins said.
Another trip that Hawkins took this offseason was around his 50th birthday in December, an adventurous story he shared with the crowd at Whistle Binkies.
"Through 2022, I had this notion that I wanted to go to Tanzania to climb Kilimanjaro, and I wanted to summit it on my 50th birthday. I thought that would be the coolest thing. I spent two weeks in December in a village teaching young boys and girls baseball, a sport that they had no clue even existed, and that was the highlight of my 50th birthday," Hawkins said.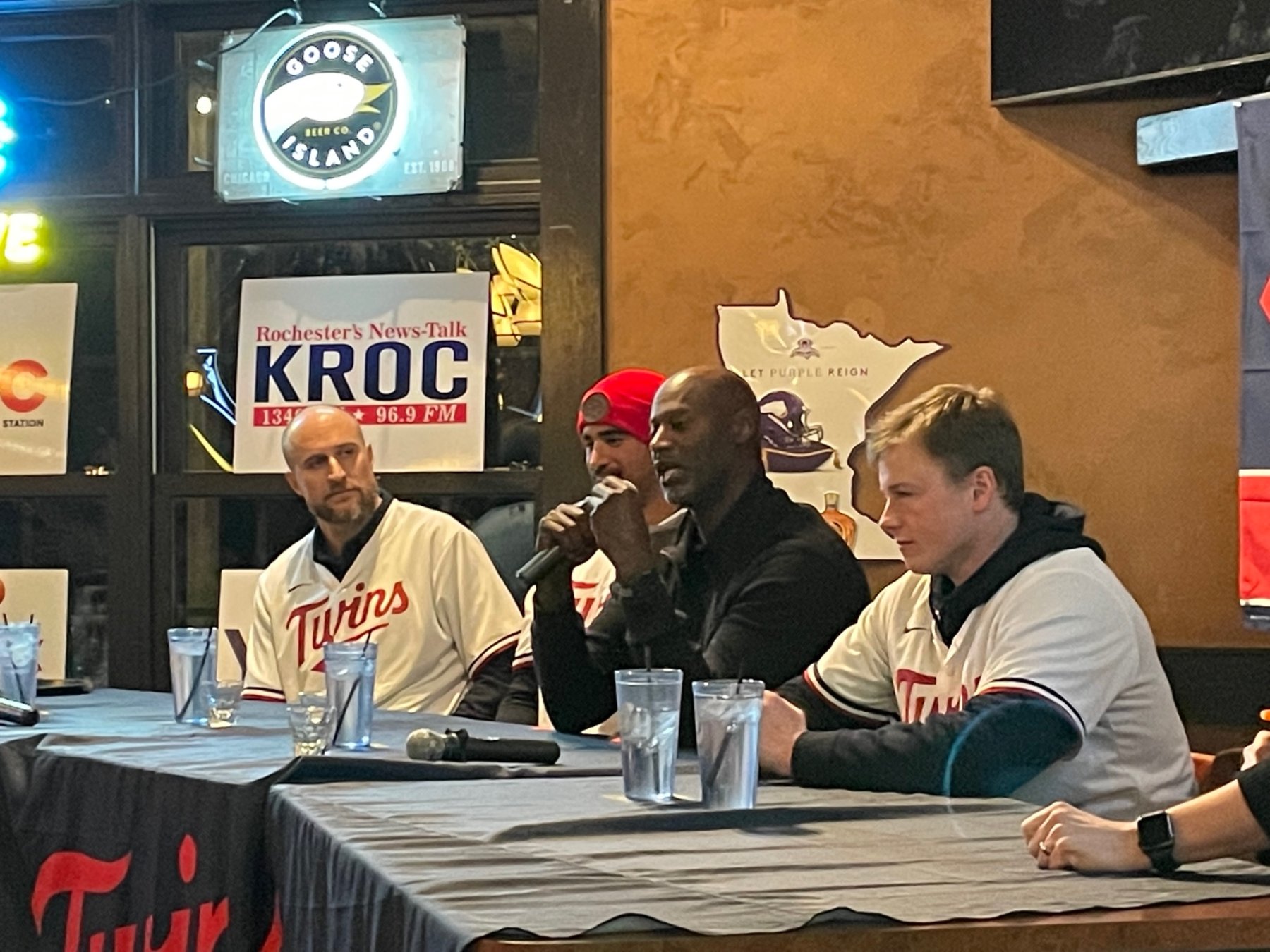 Before sharing his story on climbing Mount Kilimanjaro in Tanzania and teaching kids about baseball for the first time in the country. Hawkins, Popkins, and Baldelli each shared their best advice on what parents can teach their own kids in the Rochester area about the game. 
"It's not actually about reaching the top of the pyramid, it's about learning all those good values that go into it," Baldelli said. "It's not all cake and easy. But being positive and really having that determination inside you that you're never going away, you're never quitting. It's hard to beat someone that never quits."
One Twins pitcher that exemplifies those qualities is Varland, who provided the crowd and his coaches with a great perspective on how he approaches his roster situation for spring training. 
"I'm heading down to spring training, and I'm eager to learn but also very eager to compete. It's gonna be a really competitive spring training. My job is to make it really hard on Rocco and the decisions he will have to make," Varland said.
"Honestly, that is exactly the answer that you want to hear from one of your young players," Baldelli responded to Varland. "This guy is going out there to compete. And he worries about the things that he can worry about."
The Twins crew made not only one but two kids' nights during the event as nine-year-old Noah Struss had the opportunity to ask the first question of the night and was invited to sit next to Varland for the rest of the night.
Noah's opening question for the panel was, "What is your favorite subject in school?" 
Varland was the only one to answer the question, and his answer was science. Noah only got the one answer as Provus invited him up to meet Varland and get a picture with him. 
"That was even more meaningful to see since my dad is a huge Twins fan and brought me to TwinsFest for many years," Leah Struss, Noah's mom said. 
"Oh it was so exciting to see," added Bryan Struss, Noah's dad. "He did such a great job.
The other kid who had their night made was eight-year-old Emma Landherr, who had a pressing question about the team mascot
"Can T.C. Bear talk?" she asked. 
This was the first time the Landherr attended a Winter Caravan stop as her dad Adam Landherr shared, "We're big Twins fans and usually get up for two or three games a year. We watch and listen all the time these two [Emma and her older brother] are a little older we'll get to more each year."
The Twins Winter Caravan makes its final stop in Mason City, Iowa, tonight at Music Man Square.