The combining of the two companies tracks with trends coming in the design and architecture spaces.
Just a couple weeks into the new year, visualization studio The Boundary, based in London with additional offices in New York and New Zealand, announced an expansion of their company, acquiring Auckland-based digital twin specialist Buildmedia. With the move, The Boundary combines their expertise in building hyper-realistic, interactive visualizations with Buildmedia's leading capabilities in the digital twin space, particularly for large-scale projects.
The Boundary was founded in 2014 and has emerged as a leader in photorealistic 3D graphics, specializing in real estate and design. Given the way many technologies are trending, with things like augmented reality (AR) and virtual reality (VR) expected to become a larger part of workflows in nearly every industry, to say nothing of the emerging metaverse space down the road, The Boundary has positioned themselves to be a leader in these spaces. Working with some of the most high-end properties around the world, their platform allows for interactive sales and marketing efforts while still in the design phase, with the ability to build out hyper-realistic representations of design plans. Their projects include a major restoration project at the famous Waldorf Astoria in New York City and The Whiteley in London.
They combine forces with Buildmedia, who has plenty of their own accolades and expertise in the 3D visualization space. The New Zealand-based firm, which was founded two decades ago, works with multiple sectors to create interactive, real-time solutions. The company has completed projects ranging from singular buildings to entire cities, to go along with their Realspace platform, which is now built into The Boundary's product suite. Realspace allows designers, marketers, and salespeople to provide a realistic and interactive view of a space, whether on a traditional platform like a tablet, television, or laptop, or via a fully immersive VR experience. Users can "walk" through spaces, change aspects like materials and colors, and can even incorporate information about surrounding spaces with 3D visualizations, photos, or videos.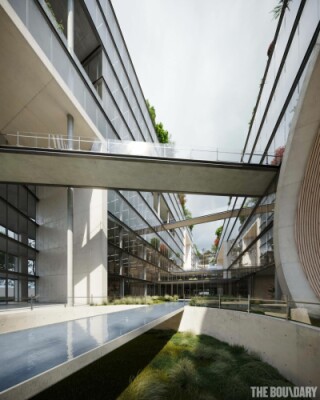 In creating these models, Buildmedia has turned to Epic Games, establishing one of the premier examples of design firms collaborating with graphic companies traditionally focused on the gaming market. Epic works with a number of different companies within this space and those adjacent to it, but Buildmedia has become one of the top collaborators. The firm's digital twin of Wellington, New Zealand is one of their top achievements using Epic's Unreal Engine. In fact, Epic has contracted Buildmedia has one of only two Unreal Authorized Service Partners – "businesses and individuals who are able to provide the highest level of technical support, implementation, and co-dev services to current and prospective Unreal Engine customers" – working within the AEC space.
The bringing together of these two companies highlights two key, intertwining trends within the AEC industry that should provide value for architects and designers looking to take advantage. The first is that connection with the gaming space, utilizing their expertise in graphics to create the most valuable visualization of a space, building, or entire city possible. Firms across the AEC space are partnering with companies like Epic, Unity, and NVIDIA, often with great results, and it's a trend we're expecting to only strengthen over the coming year.
It also, as alluded to above, ties into the growing popularity and usability of VR tools. While there is still plenty of growth to be had in this space, recent releases from Meta and upcoming ones from Apple are expected to make VR technology both more accessible and, crucially, more enjoyable. We're still a ways away from these headsets becoming ubiquitous in the way other technology has become, but especially in enterprise settings their presence should only become more common over the next 12-24 months. Specifically for a space like real estate, where we're seeing more buyers make purchases sight unseen, these visualization tools will be separators for design firms who want to be able to show off their vision as accurately, interactively, and impressively as they can.
On this acquisition, The Boundary CEO Tom Wood said in a prepared press statement, ""This acquisition marks the next phase for The Boundary following impressive growth across North America and the EMEA, as we now naturally expand across APAC. We are delighted to welcome the very talented Buildmedia team into the family."
As of this writing, the specific terms of the acquisition have not been released.