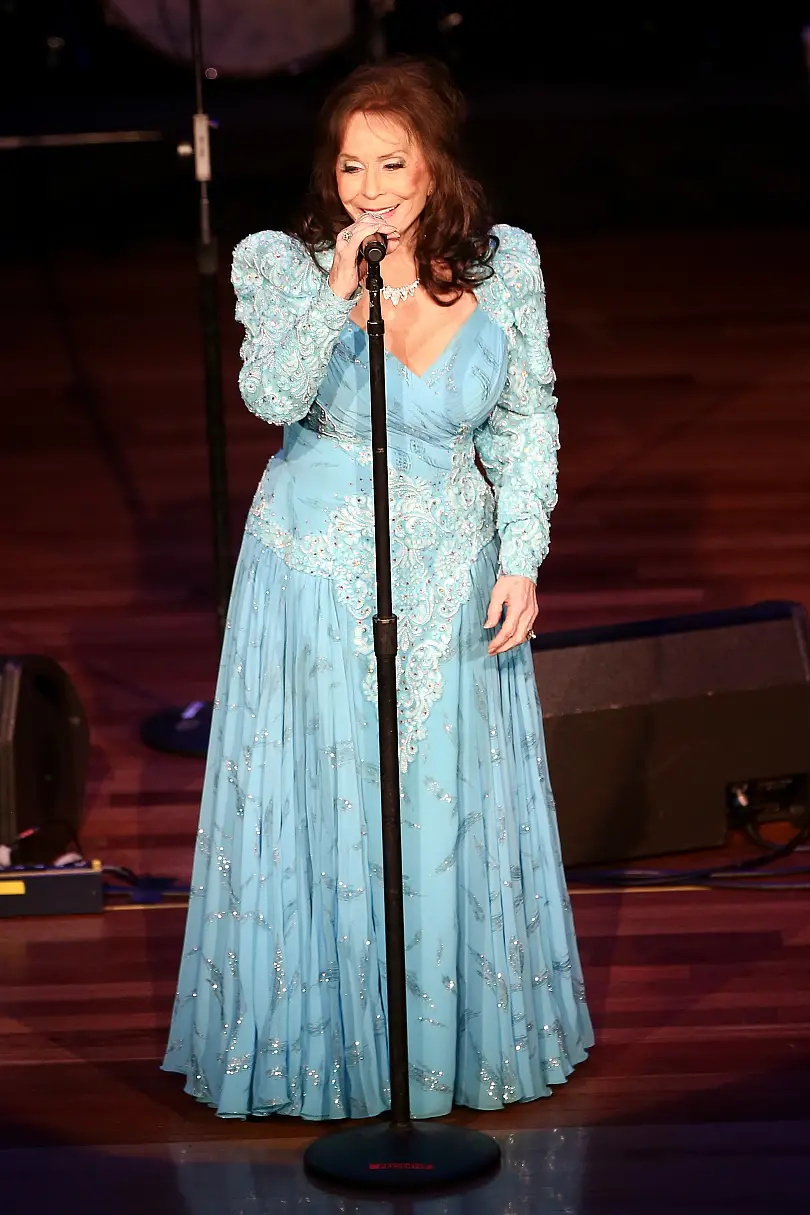 Loretta Lynn was born on April 14, 1932. The country music legend was 90 years old when she passed away on October 4, 2022, but her legacy still permeates all of country music. In honor of her extraordinary life and career, we remember her today with these 11 facts about the country music trailblazer.
1. She is named after the film star Loretta Young.
Lynn's mother, Clara Marie, was reportedly such a big fan of the 1940s film star, known for her roles in Farmer's Daughter and Come to the Stable, that she named her oldest daughter after her.
2. She claims she was just 13 when she married Oliver "Doolittle" Lynn.
While some reports claim Lynn was 15, in an interview with Esquire, she claimed she was only 13 years old when she got married.
"Doolittle married me when I was thirteen and took me out of Butcher Holler when I was pregnant. I didn't know the world was that big," Loretta stated.
3. She didn't know she was pregnant with her first child until she was five months along.
"When I got married, I didn't even know what pregnant meant," she told Esquire. "I was five months pregnant when I went to the doctor and he said, 'You're gonna have a baby.' I said, 'No way. I can't have no baby.' He said, 'Ain't you married?' Yep. He said, 'You sleep with your husband?' Yep. You're gonna have a baby, Loretta. Believe me.' And I did."
4. She had six children, and became a grandmother at age 34.
Lynn's first daughter, Betty, was born in 1948. She had two sons, Jack and Ernest, another daughter, Clara, as well as twins Peggy and Patsy. Jack passed away in 1984, while trying to ford the Duck River near their home in Hurricane Mills. Betty also passed away in 2013, from emphysema.
5. Her younger sister is Crystal Gayle.
Lynn's younger sister, Crystal Gayle, was born as Brenda Gail in 1951, when Loretta was 19 years old. Although there have been rumors of sibling rivalry, Crystal Gayle says that couldn't be further from the truth.
"You know, I look up to my sister," the younger sister insisted (via The Boot). "We both have flaws in different ways, but we're not gonna tell what they are, you know? But, I mean, we love each other … We overlook [the differences]."
6. She was good friends with the late Patsy Cline, and claimed Cline still occasionally visits her.
Lynn thought of Patsy Cline as her big sister, which is why she was so devastated when Cline passed away in 1963 in a plane crash. But Lynn, who wrote about their relationship in the book, Me & Patsy Kickin' Up Dust: My Friendship with Patsy Cline, still missed her good friend until her own death, although she insisted Cline occasionally stopped by when hse was still alive.
"I was singing one day, and I thought, 'Geez, I wish Patsy was here,'" recalled Lynn. "I looked up, and there she sat. Every time I've done that, she's been with me. I see her a lot."
7. She was also good friends with Sissy Spacek, after the actress played her in the film, Coal Miner's Daughter.
Ever since the 1980 film, Coal Miner's Daughter, based on Lynn's life and career, she remained good friends with actress Sissy Spacek, who portrayed the role of Lynn.
"She cast me in the movie, first of all," Spacek told PopCulture.com. "And we had an instantaneous friendship. It was bizarre. She says, 'Sissy, we were twins in another life.' And I go, 'Okay, yeah, I get that.' She helped me so much with the role. She opened her eyes to me, she opened her heart to me. We're god-sisters."
8. Lynn had numerous songs banned from radio, including "The Pill," because of its then-controversial subject matter, about contraception for women.
"The Pill" wasn't able to be played at radio, but it still managed to eventually make its way to the Top 5 on the charts.
"I didn't understand that, because everybody was taking the pill," Lynn told Songfacts. "I didn't have the money to take it when they put it out, but I couldn't understand why they were raising such a fuss over taking the pill."
9. Lynn grew up with catalog pages as wallpaper.
Lynn was one of eight children, and money was tight for the large family, although she has nothing but fond memories of her childhood.
"My mommy and daddy had eight kids, so there were 10 of us living in a small cabin in the mountains," Lynn told Country Living. "The winters were cold, so my mommy glued newspapers and pages from old Sears Roebuck catalogs to the wall to help keep the cold out. We didn't have money for wallpaper, but my mommy made that old house stay warm and beautiful."
10. Lynn wanted Keith Urban to jump out of a cake for her 87th birthday, which he made sure came true.
When Lynn announced plans for her All-Star Birthday Celebration at Nashville's Bridgestone Arena in 2019, she said she had one request: for Keith Urban to jump out of a birthday cake.
"I am so excited to celebrate my 87th birthday with all my friends," Loretta said when announcing the show. "This is the first time I've ever had a birthday party! My birthday wish has come true. The only other wish I have is that Keith Urban jumps out of my birthday cake!"
Thankfully, Urban obliged. Watch him come out of the cake here.
11. Lynn loved eating rabbit and squirrel.
Lynn could certainly afford to eat whatever she wants, but she still liked some of her childhood foods, including rabbit and squirrel –– but not possum.
"Daddy's favorite dish was possum," Loretta said in her 2004 cookbook, You're Cookin' It Country: My Favorite Recipes and Memories. "I would get so mad, because I didn't care for possum that well. I loved rabbit. In fact, I had a rabbit the last night I seen Patsy Cline. Squirrel's one of my favorites, too"